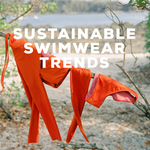 Top Sustainable Swimsuit Trends of 2021
Swimwear season is upon us, so we wanted to compile our top sustainable swimsuit trends for 2021 so you can make a smart and conscious decision this summer.
Since we started in 2017, we have prioritized sustainable processes because we love the ocean (any other water babies out there?). I was that kid that it was 7pm and I was still in the water. The thought that every year 8 million metric tons of plastics enter our ocean keeps me up at night. Hence we wanted to give you some key pointers to help you make the sustainable choice when you buy swimwear this summer. 
Whether you buy from us or other brands, make sure you check with this list to make sure your purchase is as eco-friendly as possible:
Read the Label:
Here you are looking for three things:
What is it made out of? You want to look for high percentages of recycled nylon or Econyl

in the label.

Where was it made? If you are based in the US and the suit was made in China, you need to consider the carbon footprint of importing the suit all the way from China. That's a lot of carbon emissions.
How do you take care of it? If there are no instructions or these are vague, that probably means that the brand you bought the swimsuit from wants you to wear the suit a couple of times and then toss.

Whatever you do, don't buy swimsuits from fast fashion!

We always recommend using little-to-no soap, unless it is necessary to remove stains, and just rinse briefly with cold water after use. More on how to take care of your suits this May (stay tuned!).
Packaging: 
If the swimsuit comes in a plastic bag, with hang tags, printing labels, printed order details etc. that is A LOT of wasted paper, plastic and ink.
Imagine the plastic bag and the hangtags' plastic ending in the ocean?
Some people get nervous that they won't be able to tell if the swimsuit is new without the bag or hang tags, but a quick inspection upon arrival can tell you that. 
Is the swimsuit folded and the creases where it was folded clearly marked? That probably means that the suit was packed straight from the manufacturer.
Is the swimsuit clean? If in doubt, you can quickly rinse it with cold water and let it dry in the shade. 
Buy MQM:
Multipurpose: Did you just buy a tankini that can double as a top for spring? Is the swimsuit style you bookmarked, a look that can translate from beachwear to streetwear? If the answer is yes, then that is a good sustainable investment. If you live in a four-seasons kind of place, you want to make sure you can get as many wears from the suit as possible, if the swimsuit is top quality then it should last you at least 5 to 7 years. Our favorite multipurpose suit is the Colette Set and the Lydia Top, I have used it as a top in Fall and even used the belt of the Lydia bottom as a bikini top. 
Quality:
Price: If the swimsuit (top and bottom or one-piece) costs less than $20, something is not right. Perhaps someone in the supply-chain is not being properly compensated for their work or does labor in poor working conditions or perhaps the fabrics are low quality. Whichever it is, a low quality swimsuit means that the odds of the swimsuit ending up in landfill after one season are incredibly high, causing the swimsuit to sit in landfill rotting and releasing further carbon emissions into the air.
Fabric: Double-stretch fabric is usually the most resistant to wear-and-tear.
Construction: Double-stitch seam in the leg openings of bikini bottoms can help the suit not stretch out. 
Monotone: A trend that pays off in spades, is the monotone trend. You can get more wears out of a suit that is one color than one that has a flashy print. The colors that get the most uses are green, like the Anna One-Piece. If monotone is not your style, we recommend getting a suit that has 2-3 different colors (tops) so you can still mix-and-match effectively with the rest of your wardrobe. For this, we recommend the Mio One-Piece.

As always the most sustainable option would be to continue to reuse the swimsuits you currently have, but I understand that especially when it comes to swimwear we can't either resist the splurge or our body has changed and we are in real need of a new suit. Whatever the reason, make sure that your purchase is both conscious and smart. Mother Earth will thank you!