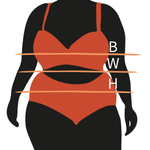 How to Find the Right Size
If there is one thing that will make you a savvier, more sustainable shopper, is knowing how to measure yourself. Below are our tips to get the measuring down. 
Knowing how to measure your body is not something we are born knowing. Instead, we either have gotten our measurements when we bought our first bra or when we made bigger purchases, say like a wedding dress. I had never gotten fitted until I did the latter. That means 30 years not really knowing my measurements. Isn't that crazy?
So from my own experience and the amount of questions we get from our customers about which size of MIGA suits to get, I figured I would share with you my tips on how to measure your beautiful body. I know for many of us the idea of measuring our bodies can be frightening and even tedious, but is it more tedious than having to go to the post office to return the order you just received? I don't think so. Below are our measuring tips:
There are 3 measurements that you need to know the most, especially if you are perusing the web and shopping a bit too much this summer. Those measurements are Bust, Waist and Hip.
BUST
The Bust measurement is probably the measurement you are most acquainted with but don't get bra size and bust size confused. For bras the band size is the number and the cup size is the letter. The band size measurement goes right underneath the chest and above the rib cage, where the band of your bra usually sits. The bust measurement, however, takes into account both cup and band by measuring the fullest part of your chest, going all around, under your armpits and around your shoulder blades. Your measuring tape should sit on top of your nipples in the front. So while I am a 32B in bra size, my band size is 29 inches and my BUST size is 32½ . So I am right between an XS and a S in our MIGA sizing. 
WAIST
The Waist measurement is easier to find than you think. If you have ever done side to side dumbbell exercises, you will recognize your natural waist as the part that bends during and the part that hurts the most after this exercise. In order to measure your waist, you are going to want to place your measuring tape above your belly button and below your rib cage. It is important to look at the photos of the product you are buying to understand if this measurement is important or not. For example, if you are buying the Lydia bottoms you are going to want to focus on the hip measurement, as opposed to the waist measurement since the belt at waist has a lot of give. Whereas if you are buying the Marije pants, you are going to want to focus on both hip and waist measurements.
HIP
Last but not least, the Hip measurement. This measurement can be the trickiest because it is hard to keep the measuring tape straight all throughout. My advice is that you do this measurement in front of a mirror. You are going to want to measure the largest part of your butt, usually the measuring tape will be in the midpoint of your underwear in the front. My hip measurement is 38 ½ inches so I usually wear size Small in MIGA pants and bottoms. 
I hope that this blog was helpful in understanding how to measure your body. Truth is, the more you understand your measurements, the better of a shopper you will become. In our eyes, the best shopper is that which is resourceful with what they already have (100 wears guaranteed!), consciously purchases when they need and doesn't contribute to excess waste (think about the amount of packaging and CO2 emissions that you can save Mother Earth by returning less items!). Please also keep in mind that, the clothes you buy, whichever the item, have to fit your body and not the other way around. At MIGA, we whole-heartedly believe that only when swimwear is functional and comfortable can it inspire confidence.