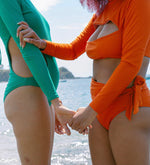 My Mental Healing Journey
I wish I could say that I wasn't part of the burnout culture of my generation but I was, and sometimes wonder if I may still hold some of the beliefs that got me there in the first place. This is how I keep my mental healing journey in check.
I wish I could say that I wasn't part of the burnout culture of my generation but I was, and sometimes wonder if I may still hold some of the self-destructive beliefs that got me there in the first place. Back in 2014, I was undergoing a lot of changes. I had just moved to a new city, had a new job and started to make new friends. This was all exciting and new, but it was also incredibly anxiety-ridden. Until then, I had never quite self-identified as someone who was anxious. I knew I got anxious when there was turbulence on the plane or before an exam, my college counselor called this 'test-anxiety'. 
A less-than-perfect work environment coupled with the inkling that I was in the wrong industry, led to the perfect storm. I have talked briefly about this before but I cannot stress this enough: I am convinced that what got me to crippling anxiety and depression was negativity. My whole life I considered myself positive and happy-go-lucky until then. Every second of every minute, I would complain about just how bad my situation at work was and how everything else was fine except for this. The worst part was that I decided to stay in this complaining cycle for longer than I should. Little did I know that with every negative word that came out of my mouth, the space between neurons in my brain was getting smaller and smaller, rewiring my brain to be negative, causing me to have a negative outlook not just on my profession, but anything around me. I was convinced that if I stuck it through for just a couple more months it would get better. It actually got worse. People around me at first wanted to help, and some of them did, but I could tell how others were just getting impatient with my constant complaining, especially when they realized that this was not a phase but the new-me. 
When I was in the worst of it, meaning still trapped in the negativity cycle without being aware, the following helped:
🧘🏽‍♀️ Meditate: I used headspace to get somewhat of an understanding of what was really going on in my head. I did this daily for 10, then 15 minutes.
🏋🏾‍♀️ Workout: This was particularly hard because back then the negativity was draining the little energy I had to even get dressed and out the door every day. I usually did 20 minutes in the elliptical and then I was out. 
📖 Read: Around this time, I knew I needed to believe in something greater than myself so I stumbled on the book Ask and It Is Given by Esther and Jerry Hicks. This book in particular helped me get hopeful and also contributed to me becoming more serene during my meditation practice.
I recognize my responsibility for getting myself to such a low point in my life and I am committed to taking better care of myself next time. These are a couple of frameworks I have in place when I catch myself going down the slippery slope of negativity and self-pity (cause in my case those two go hand-in-hand):
💆🏿‍♀️ Practice: Although I don't meditate as often as I did back then, I practice self-awareness daily. What this looks like for me is that I do a mental check-in when I am doing the most trivial of things, like washing my hands. I start by asking myself how am I feeling? Then, why am I thinking that? And then I categorize my feelings with kindness, if a negative thought comes around I label it as "not nice" and then I put it away. 
 🤓 Rationalize: Some days I am being more critical of myself than others, especially in the morning or late at night. Some of these thoughts revolve around productivity (or lack thereof), my goals and my self-worth. When I start worrying that we won't sell out our current collection, I rationalize that fear. Am I doing everything in my power to accomplish this goal? Yes. Do I have the right team in place to accomplish this goal? Yes. Did we create a product that I am 100% proud of? Yes. When I answer all of those questions with honesty and rationale, that fear goes away. 
👁 Visualize: I used to be really good at this one, and need to get back at it. When I was 18 years old and I wanted to transfer to Georgetown University, I had post-its all over my room that had written on them "I am part of Georgetown's Class of 2012" or "In 2010, I will live in Georgetown's campus." I had not been accepted yet, but I took it as a fact. I did the same when I wanted to move to London with work and then, to get into an MA program at one of the most prestigious art schools in the world. All of these happened for me. Having a visual reminder every day of the goal I was relentlessly working towards kept me focused and hopeful.
I hope sharing my mental health journey is helpful. Having put time and distance from this challenging chapter of my life has offered me the perspective I wished I had back then. If you are in the pit of it all, remember that it will get better and that if you had the energy to get yourself in that mess, you also have the energy to get yourself out of it. If you have dealt with anxiety and depression, let me know what has worked with you in the comment section. I am aware that we all experience mental health challenges differently and I would love to hear from you. Take care!