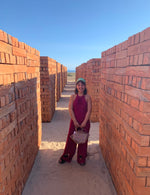 What do we mean by Live In Swimwear and why we are committed to getting you to more than 100 wears out of your MIGA suits. 
Our design ethos fuses comfort with functionality. The ideal swimsuit being one that can translate from beachwear and streetwear to evening wear. When I go on vacation I make sure to pack enough swimsuits so that I can wear one during the day, and one during the night. You never know when you will go for a evening dip ;)
If you are going to be practically living in your swimsuit, you have to make sure it is comfortable. That means that if the swimsuit is giving you a wedgie, maybe its time to pass it on to your niece. You may not be living in it, but it should be comfortable enough to do just that. We believe that being comfortable in a swimsuit is paramount to accepting and loving your body as is. Please remember that swimwear, and any other garment for that matter, should fit your body not the other way around. If you bought a tiny bikini in hopes that you will loose some weight, stop right there. The swimsuit you buy is for now.
The functionality of our suits comes from our commitment to designing swimsuits that work for a wide array of bodies and abilities. By designing with the input of our end-user directly, we are able to create without making any assumptions exactly what our customer needs and wants. Our customers wanted more sun protection, so not only are all of our suits made with SPF50 fabrics, we have two styles with long-sleeves. 
Just like wearing underwear can be identity-defining for many, swimwear I believe has the power to define a state of mind. The state of mind I crave and thus, feel when I step into one of our swimsuits is shoulder-raising excitement, bursting confidence, and relentless joy. My hope as a designer is to, even if it is just for a brief moment, change your state of mind to that. 
My attachment to this state of mind is why I believe swimsuits must be season-less and versatile. Why should we reserve all of these feelings to just when you go on vacation? Not only are vacations a luxury, last year, in particular, they proved to be non-existent. So we had to do with what was available: your balcony, your backyard or just sitting by your window. To get more wears out of your swimsuit, most of the time all you need is to live in a place that is warm. Hey! Even if you live in a cold place you can still layer up your swimsuit for a jacuzzi session. You get my point. 
If your relationship towards swimwear needs some work, I hear you. Most of us can think of that one time you felt a certain way or someone made a certain sly remark about your body while wearing a suit, and since then trying-on or even online shopping for one has become an anxiety-ridden experience. I want to invite you to change that. Next time, instead of thinking about how your body should look, think about the feelings that come to the surface when you are taking some much needed time-off or the feeling of being surrounded by nature and channel that into your next purchase. Keep in mind comfort, functionality and versatility of the piece and I can assure you, before you know it you will hit more than 100 wears on your suit!