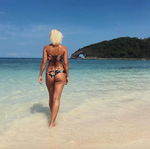 Sea Water and Psoriasis: A Self-Care Mission
By: Georgia Crowther
When I was 7 years old, I found the best remedy for my skin condition. This is why sea water and psoriasis go hand-in-hand.
Most people will tell you to stay away from the sun; I will tell you the opposite. Spend as much time with it as possible. Same applies to the ocean. Treat it like another companion; cherish it, be grateful for it and just like the sun, spend time with it. If the ocean and the sun were a person, it would sure be the best human alive! 
You may be thinking why is she telling me this? Well, the ocean water and the natural sunlight heals my psoriasis. I came to this realisation when I was 7 years old, on my annual 6 week holiday in Spain. After spending some time at the beach, my family noticed that my skin was improving and by the end of the holiday, my psoriasis had completely cleared. The sea water dries out my psoriasis and the sun rays work like magic to minimise the dot-to-dot look. Eventually, these spots then fade into little scars and then vanish. I highly recommend you try this process if you are a psoriasis warrior.
Now when I tell you to spend as much time in the sun as possible, I don't mean to promote unsafe sun exposure! To take precaution, I always use an SPF30 which I apply 30 minutes before sun exposure. Piz Buin is my favourite body sunscreen because the smell brings me back to childhood memories! For my face, I use UltraSun. This product is for sensitive skin and it is free from all the skin nasties such as mineral oils, emulsifiers and perfume. Strong scents and chemicals can often irritate the skin, so not the best if you have flares.
A day at the beach is a healing mission so I always opt for bikinis, rather than one-pieces. I throw on a loose fitting dress or a sarong (my collection of these is crazy). I much prefer to lay on a cotton sarong rather than a towel, as these can be rough and irritate the skin. In my cute beach bag I like to pack plenty of water and yummy healthy snacks like fresh fruits, nuts or hummus with raw vegetables.
I also make sure to pack headphones, a spray to protect my blonde hair from the sun and a good book; How to heal your life by Louise Hay is a must-read. Oh and don't forget a lip protector! My favorite is EOS lemon. Now you are ready to become a well experienced beach bum! I would say I spend an equal amount of time in both the ocean and laying in the sun as they both work wonders for my skin and put me in my much-needed happy place. Keep in mind that we all have different skins so adjust this as you see fit. Let me know if it works for you :)
Georgia is 25 years old, from North London, UK. She was diagnosed with guttate psoriasis at age 7. She is currently studying for her Level 3 personal trainer qualifications, where her main focus will be training clients with skin conditions. She believes that being as open and honest about her psoriasis will allow her to feel better and raise awareness about this condition. She wants our readers to know that they are not alone in their #psoriasisjourney. You can follow her @georgia.crowtherr
If you want to know more about this skin condition, visit psoriasis.org