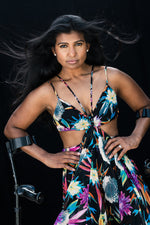 Knowledge to Understand What We Are Looking At
By: Rajee Aerie
Every single one of us at some point or another has felt insecure about ourselves. Why? Because that insecurity stems from what society and the media tells us the ideal perfection is. Well it's time that changes and we say screw society's ideals and create new standards of beauty. Thankfully some companies are starting to embrace all bodies and all forms of beauty within society, like MIGA Swimwear and Aerie. These brands  are breaking the rules by encouraging women and girls to accept their bodies just as they are and find their worth within themselves.
I remember thinking I could never be a model because I am so petite or because I am not blonde and blue eyed, but rather Indian, and I used to think there were no Indian models. Then as I got older I noticed I never saw anyone with a disability in mainstream media so I thought I could definitely not be a model. Well here I am today a petite, Indian, female with a disability in a major campaign for Aerie and I couldn't be more proud of myself for never quitting and persisting onwards in order to break stereotypes. I started out just shooting with friends and then shooting with photographers that needed to update their portfolios. Once I got more comfortable in front of the camera, I noticed my photos were much better and my confidence shined through.
I eventually signed with a talent agency and it's been a slow progress because there is still a long way to go for companies and the TV/Film industry to include someone like me. I don't want to play the stereotypical Indian doctor or the token person with a disability. I want to be cast as the protagonist, the best friend, the young mom or the girlfriend just as anyone else would be cast.No matter what field you are in don't take no for an answer. You can do something, show them and prove them wrong. The other day I did a phone interview for an event production job and they were so impressed by my skills and experiences, I thought they would want to hire me on the spot. I then did an informal, in-person interview and I followed up with a thank you email but didn't hear back. I couldn't help but wonder was it because of my disability or my petite stature that I didn't hear back? Did they think I wasn't commanding enough to lead a team?
Whatever the case may be, I shared this thought with my mom and she reminded me that if they didn't even bother to have the courtesy to respond to my email, this wasn't a company I wanted to be part of... I constantly remind myself rejection is just redirection to something bigger and better.It is important to teach each other about our differences and what we are capable of, so we are more knowledgeable and truly understand what it is we are looking at. Not all differences are visible and it is important to share our stories so we don't automatically judge one another. It starts by simply saying "hello" and not being afraid to ask questions because we are all curious human beings.
Once we are provided with the proper knowledge and terminology, we can become more open-minded and accepting rather than stereotyping. Society should not dictate what the perfect ideal is, we have the power to celebrate and acknowledge the beauty within all of us. That's why I think it is so important that the fashion industry includes all types of people. Everyone wants to feel beautiful and confident. We are all unique and beautiful in our own way, and when we can relate to a brand, there is a greater chance we are going to be a consumer of that brand. My biggest hope is that more brands start to offer adaptive clothing for all abilities.
Rajee Aerie is a model, actress and advocate for the disability community. She has appeared in national and regional commercials, as well as in print for Walgreens and Benefit, among others .Most recently you can find her in Aerie's Bra Campaign. You can follow her @rajeeaerie1st photo by: Andrew Buda and Alex Albeck for Aerie2nd photo by: Matt Kosterman