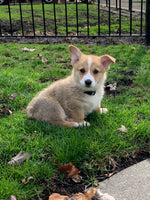 Pandemic Puppy: Is a thing
I feel sometimes incredibly guilty because in a time when so many people have suffered, I have been happy. Three weeks ago, Chris and I decided to get a puppy. The decision was thoroughly thought through; ever since my last dog died in 2008, I have been wanting to get another one but the timing was never right. I didn't want to get a dog in college, nor when I started a job in Washington DC that then took me to the UK. It never felt like the right time until last month. 
Chris and I had discussed getting a dog some time later this year when we figured out our new housing situation. However after days turned into weeks in quarantine and we both were working from home, we decided there was no better time than the present. So right on time for Easter Sunday, we decided to drive to Indiana to pick up our Pembroke Welsh Corgi puppy. My parents were breeders in the 1990s and I couldn't imagine owning any other breed other than this one. I want to formally introduce you to Francisco Xavier Da Silva, aka Xico. Named after the Brazilian legend and one of our favorite songs "Xica Da Silva" by Jorge Bem and the cofounder of the society of Jesus, Francis Xavier, this dog has changed my life forever.
How do you make sense of something you have wanted for so long and you finally get? 
The feeling I get when I am able to decode puppy's speak, whether it's understanding when he needs to go outside or when he needs his chewing toy, feels like a shot of Oxycotin hitting my brain. When I am busy working and I catch him either playing by himself or waiting for me to play with him, I get another shot. When he doesn't see me for a while or we are outside in the park and he runs towards me with his puppy smile, full tongue out, another shot. When I see my husband carrying our fur-baby, protecting him from other dogs in the park or just taking him out, I am enveloped in this loving cocoon of protection that is almost asphyxiating. 
The dog is turning 3 months tomorrow. He is probably more than 9 pounds already, went from being scared of honking cars and going up the stairs to aggressively defending his territory from the evil broomstick, and he is still chewing everything in sight, including shoes, socks, pajama pants and computer chargers. He has gone from sable to red and sleeps through the night in his kennel, wakes up at 8:30am to empty his little body and still has his morning nap after breakfast. He leisurely enjoys his naps and belly-rubs and simultaneous teaches me to be more patient and to not hurry outcomes. Because of him, I am more in touch with nature than ever and every day when I am consumed with guilt or worry about the future, he puts his paw on my lap to remind me that what matters is now.  
Follow our little minion here:
@xico.da.corgi