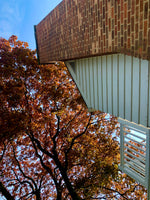 Some days, it feels like the walls are caving in. There is no end in sight to quarantine and everything seems daunting: the state of the world, future plans, success. Everything. So we keep moving forward so we don't have to feel. We continue filling our schedules with grocery runs, ZOOM meetings and happy hours, doing whatever we can do so that we can tell ourselves: we will get through this, this isn't so bad. And in the attempt of wanting to keep some semblance of normalcy we forget, even if for just a minute, that we are locked away in self-punishment. Did we party too hard and abuse the world that we live in to such a degree that we needed to be placed in a time-out? Perhaps and I think it is working.
Do you surprise yourself when you find yourself looking at the clouds in the sky or admiring the trees for longer periods of time than before? When I see the robins flying over my head I start to think that they are trying to tell me something. I have to admit I have started to honor these kinds of thoughts, that before I would have deemed insane and immediately dismissed. I think that is because now, more than ever, I am listening to my thoughts and spending more time with myself.
Without realizing it, I am having daily check-ins with myself because I believe I have to. In the midst of a global pandemic, quarantining with my husband's family, my day-to-day is no longer mine. I am part of a compound, a survival compound of sorts where the energy, comments, and what I do or don't do can affect everyone. So everyone deserves a second chance, everyone deserves to be in pleasant company, everyone deserves kindness because the world is too scary out there not to honor those you get to live through this with.
Quarantine has taught me to face with honesty my personal shortcomings and uncomfortable feelings. When I get angry because our wedding video didn't turn out like I expected it to be or because I burn the toast, I honor that. When I am feeling self-doubt before presenting a webinar or because I am not sure we will sell out our collection, I sit with it. When guilt consumes me about my privilege or how I could be a better sister, daughter-in-law, friend, I honor it. I remind myself that everything I feel has grounds but just like I need to honor its grounds, I also have the time to question and contest it. I sit with my feelings in a self-proclaimed time-out because I owe it to the ones around me and most importantly, to myself. I do it now not only because I have the time, but because my community, the environment and humankind needs it.