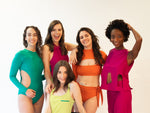 Build it and they will come
A week ago we started advertising online for the first time. We were a little apprehensive because we weren't sure it was a good time with COVID19. We decided to push through however because swimwear is seasonal and summer isn't cancelled.
We have gotten a lot of comments about our pricing and design. Firstly, I will start with the price. Aside from the fact that we give away more than 5% of our pieces to our design muses, read members of the disfigurement, disability and chronic illness community, we also produce stateside to make sure that every person in our supply-chain is being properly compensated.
A lot of the comments centered on how our prices are cost prohibitive for the disability community. To assume that the disability community cannot afford our swimsuits is to assume that people with disabilities do not have discretionary income, the money that people spend on nonessential goods or services. According to an American Institutes for Research (AIR) study, the discretionary income of the disability community is $21 billion. 
Additionally, our bathing suits are made with luxury Italian fabrics that are twice as resistant to oils and chlorine when compared to other swimwear fabrics, making our swimsuits an investment rather than a shop, wear and toss purchase. 
This fabric also happens to be sustainable, made entirely of post-consumer polyamide yarns and regenerated waste materials. This fabric is not cheap to produce and we are ok with that price point because we want our swimsuits to be sustainable and to stay with you for life. If after 1-2 years, our swimsuits don't live up to their quality you can contact us and you will get a response from us. 
When it comes to design we have worked with over 25 design muses, where the majority have different diagnoses, to create pieces that they feel comfortable going to the beach and/or pool in. We are in no way suggesting that you should hide your difference, instead by creating a brand inspired by health conditions that traditionally have carried tremendous stigma and showcasing the stories of a community that has previously been underrepresented and underserved, we hope to break that stigma and send a very clear and succinct message that
every body is a bikini body.