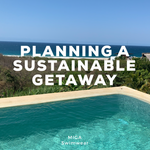 5 Tips for Planning a Sustainable Getaway 
Spring is here and the need to escape our routine is clear. Here are 5 tips for planning a sustainable getaway.
After being cooped up for what seems like an eternity, what better reason to dust the spiderwebs off your carryon than to plan your next sustainable getaway. Whether near, think next town over, or far (anywhere you can travel to with safety precautions in place), it's time to plan your next escape.
Below some of our tips on how to plan your next getaway in the most eco-friendly way as possible:
Buy Local 
When visiting for long stays (working remotely in paradise anyone?) make sure to adjust your diet to meet what can be supplied locally. I am not saying forgo your lactose-free milk if you are lactose intolerant, but think about going out of your comfort zone and trying fruits and vegetables that are locally farmed. When visiting supermarkets that cater to tourists, you might end up buying products that come from far away, more CO2 in the atmosphere at a more expensive price to the detriment of your wallet and most importantly, the planet. 
Great Minds Think Alike 
Find yourself a place that is beautiful but also whose mission aligns with yours. Many hotels and Airbnb's have adopted sustainable practices quicker than regular households because it just makes cents! Whether your hotel has the towel-on-rack means no wash policy, or your Airbnb comes with a compost bucket, make sure you leave the place the same or better than you found it. Mother Nature will thank you.
Say Bye to Plastic Bottles
Do you know how many water bottles you consumed in your last trip? The international tourism industry is a significant contributor to the 400 million tons of plastic produced globally every year. I cannot think of a bigger contradiction, pay to go be at one with nature, while at the same time trashing your destination. I present to you the Grayl Water Filter Bottle. This bottle has its own filter so you can fill up your bottle up from any faucet, even rivers! If you are sceptic about it, we were too at first but we have used it from Mexico to Brazil, all without getting a single tummy ache. Can you imagine how many years we are saving the world by doing this?  
Treat it Better than Your House
So you walk into a little slice of heaven, surrounded by breathtaking views and luscious nature. Think about your accommodation's running costs, how much in their currency it costs to maintain the infrastructure or pay for electricity and water bills. Next time you go away, be mindful that you might not be in the land of plenty and make sure you take quick showers, remember to turn the lights off after you leave a room and make sure the AC/heater is off when not in use.
When Everything Aligns
You can't preach a sustainable lifestyle if your wardrobe is not to match. For your next trip consider packing one of our MIGA suits, made entirely of post-consumer yarns (think discarded fishnets and carpets). Plus our fabrics' two-way stretch technology has been tested to withstand the passing of time, so from season to season the suit will stay longer with you, reducing the time that a similar garment would end up in landfill.