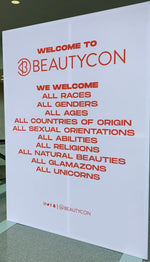 MIGA Swimwear does BeautyCon
A couple of weeks back I got to attend BeautyCon, a star-studded event that showcases the newest beauty and wellness brands looking to make a splash. As soon as I got out of the subway stop, I see a line outside of the convention center that goes around the block. While in line, I hear a cosmetology student regretting her choice of outfit and the fact that she left her makeup bag at home. I don't blame her. Before I left my house, I too was nervous that my makeup was not good enough. Around the corner there are maybe 2 YouTube stars I do not recognize, dressed to the nines and trying to skip the line because of their title. And they are successful at it. Thankfully, the line moves fast because I can feel the crowd getting anxious.
At the entrance of the event, it is clear. EVERYONE is welcome. I have been to a couple of conferences at this convention center but I have never seen as many people in wheelchairs as I saw at BeautyCon. I start getting excited, what is this awesome event where everyone is not only welcomed but represented? The majority of their promotional material features black women and that is representative of their attendees. And don't even get me started on the outfits, there were so many people that honored the art of dressing and took time and energy to put themselves together that day, it was beautiful. As far as conferences go, this one by far has to be the most diverse and artistically-dressed I have ever attended.  
At the beginning, I thought people were getting giddy because they were going to see their favorite influencer, but I quickly found out that it was because they were worried they were not going to get the best free goodie bags. The conference consists of many booths showcasing products, from moisturizers to flat irons and eyeshadows, and their respective lines of fans. The range of companies is as follows: either you have a company launching a new product or a pre-historic one like Maybelline and Sally Beauty trying to remain relevant. For my first booth visit, I decide to stop at Ilui llui as the line wasn't too long. Their product is gel nail stickers. I sit down and discuss Korean skincare with one of their manicurists. Then I decide to start a conversation with a Long Island mom. When I ask her how she found out about the event, she responds overwhelmed: "I don't know, I just know my daughter wanted to come." Behind her I see a 13 year old asking her friend "does this filter work?" It dawns on me that the majority of the event attendees are teenagers. 
As I make my way to the panel about Toxic Masculinity, the first thing that I notice is that there is a sea of empty chairs. I wonder if it has anything to do with the topic. The panel concludes and all of a sudden those chairs get filled. The lights start to pop. Angel Merino, a YouTube makeup sensation, enters the stage with a group of 6 backup dancers. I start to think, if 13 year olds are asking to come see a man wearing makeup dancing on a Saturday then there is hope that children will grow to have a more fluid definition of masculinity. Yes, the dance includes a couple of risqué moves but is nothing kids that age haven't already seen on social media.
Gen Z wants to be involved and beauty brands are paying attention. This event was perhaps geared to an older generation with a higher acquisition power, say millennials or the older half of Gen Z, but instead a big majority was between 5 to 16 years old. In some ways, it was also a family event. I never thought I would live to see a newborn wearing pink eyeshadow. I do worry though, that perhaps kids are getting into makeup and the idea that you need makeup to be beautiful a bit too soon?
If you know a 7 year old, ask them what they want to be when they grow up. I can assure you 1 out of 5, at least, will tell you that they want to be a YouTube star. And that is not far from what I wanted to be when I was little; I wanted to be an actress. BeautyCon gives Gen Z the opportunity to meet their favorite Youtube stars IRL and some of them, are positive influences. I was blown away by Nabeela's account of how she learned to love every "roll" in her body. Yet I can't but wonder what the overall effect is on the young attendees, is BeautyCon making Gen Z more concerned about their image or is it broadening their beauty standards? What do you think? Comment below :)