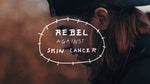 Are YOU ready for summer?
By: Marije Kruis
A couple of years ago a friend told me to go see a dermatologist when he saw a mole on my lower leg, which was small but had a little darker color than the others. It was actually a tumor and I got diagnosed with stage IV melanoma cancer. I was absolutely stunned when the doctors started to talk about life expectancy and treatments, wasn't skin cancer something you "just cut away"? Why did this happen to me? I never spent much time in the sun! I started to learn that we still live in a world full of misconceptions about skin cancer and I decided I want to change that.
Skin cancer is the third most common cancer type amongst young adults and most are not aware of that. Most are also not used to doing regular skin self-checks, even though early detection can be crucial. Skin cancer does not only happen to people who have pale skin. You don't only get skin cancer if you have spent a decade of tanning on the beach. Be mindful that melanoma does not discriminate; it happens to all genders, ages and skin tones.
Some years ago, I decided to start a skin cancer foundation called Spot the Dot and one of the campaigns I made was dedicated to get a conversation started around sun-safe fashion. To my surprise, there were no swimsuits with long sleeves available in all of Europe. Now-a-days, swimwear brands like MIGA Swimwear are making swimsuits that offer UV protection while not compromising on style. Truth is, I want to be a brave and cool woman who embraces her body with all its scars, but I still don't always feel this way when I am wearing a swimsuit in a public space. I remember the first time I went into a public pool and I felt like everyone was looking at the giant scars on my legs. It is still sometimes hard for me and I make sure to take it step-by-step.
The summer should be all about creating good memories and having a good time. I hope that by sharing our stories, we can empower each other to actually enjoy that time with friends in the park or on the beach, instead of worrying about the differences in our bodies. Below are my tips on how to enjoy the summer, safely.
Tips for a sun-safe summer:
1. Prevention
Use sunscreen with spf protection of 30 or higher, like

CoTz Sensitive SPF 40. Use code MIGASWIM19 to get 20% all products, may not be combined with any other offers.

Wear protective garments, like UV protected swimsuits and hats,

Seek the shade, children are the most vulnerable to melanoma!
2. Detection
Examine your skin head-to-toe every month. Self exams should NOT replace the annual skin exam performed by a physician BUT they offer the best chance of detecting the early warning signs of skin cancer. If you notice any change in an existing mole or discover a new one that looks suspicious be safe and see a doctor. More information can be found

here

.
Make sure you include a yearly skin check with a dermatologist to your health routine!
The month of May is Melanoma Awareness Month. My hope is that we take a moment to start a conversation about prevention and detection of skin cancer. Simply ask your loved ones if they keep an eye on changes on their skin (and moles). Read more here.
Dutch-born Marije Kruis is 35 years old and lives in Vienna, Austria. She is the founder of Spot The Dot and her latest awareness campaign, #rebelagainstskincancer aims to rebel against the ignorance that surrounds skin cancer. Follow her badass work via Instagram: @spot.the.dot Facebook: @spotthedotcampaign Twitter: @spot_the_dot