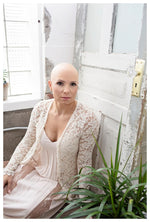 What about all the questions?
By: McKenna Reitz
I can't even look in the mirror, how am I supposed to answer questions about this autoimmune disease that is taking all of my hair away from me? This was one of my MANY fears as a high school psychology teacher and a varsity volleyball coach.  People are going to look at me differently, they are going to ask questions that I can't answer because I don't even understand what is going on myself. I want all the answers to their questions! Will all my hair fall out? Will it ever come back? Will I have to wear a wig? I don't want to face this. I don't want to talk about it.
I knew I was going to have to face these questions at some point so I thought it would be easier to beat my students to the punch. I started wearing headbands to cover up the baldness, as my hairline started to recede. It was time. I knew the questions were starting to form because they were in my own head. I explained to my students that I was going to start to look differently in the upcoming months because I was losing my hair. They didn't understand the magnitude of my transformation, I didn't understand it. I didn't know hair loss would cause such a physical, mental and emotional transformation in me.
This was the BEST decision I ever made throughout my journey: being completely open and honest with everyone around me. I have never heard of Alopecia before I was diagnosed and I feel that it is my responsibility to educate my community about it.
Over the past couple of years, my Alopecia began as the big elephant in the room. My students were afraid to ask me about it until they got to know me, so I took it upon myself to start the conversation. I brought it up in class a lot as I applied different aspects of the journey to various topics of the AP Psychology curriculum such as self-serving prophecy, intrinsic motivation, and how to manage stress levels.
When I make fun of myself, my students initial reaction is a state of shock. Like that one time one of my students was complaining about having a bad hair day, and I just said "you think you are having a bad hair day?" At first they don't understand how I can be so "mean" to myself. But then I explain that if you can't make light of the difficult situations, the journey is going to be a stressful one.
And once my students understand that I am open and honest about my hair loss, the questions start rolling...
"Do you have hair anywhere on your body?" NOPE.

"Are your eyebrows real?" Initial answer no, they are drawn on. Now, they are micro bladed!
"How many wigs do you have and do they itch?" I think 10 (trial-and-error) and absolutely!!
The relief you feel after answering these questions is incomparable. I feel extremely liberated; I feel free from hiding who and what I am! My biggest advice for anyone coping with an autoimmune disease like mine is be honest. Be honest with yourself, your family and friends. You are strong enough to answer those questions. Help others understand.
Photo credit: JP Photography