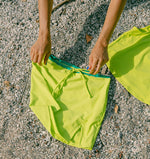 Why Choose Ethically Made Swimwear?
While you might not be able to tell ethically made swimwear from regular swimwear apart, here are 5 reasons why you should choose ethically made swim. Every time. 
As a fervent consumer of swimwear, I constantly grew disillusioned when after a season or two the fabric of my bikini bottoms started to pil. There was also that one-piece that had sand permanently impregnated in the fabric and that bikini top whose straps had gotten so stretched out, it just didn't work. To say that I worked my swimwear hard was an understatement, afterall growing up in Costa Rica and being a water-aficionado meant that I used my swimwear all year around, almost every day. 
So when in 2016 I decided to start my own swimwear brand, in part due to my frustration that beautifully designed swimwear most of the time didn't translate into high-quality, I started my quest to break that pattern. In 2019, we found the factory and production team that could get us there. With fabric that is anti-pill, double-stretch and feels like butter, and the skill-set of 40 years in business of our factory, our swimwear is made in humane, sustainable workplaces to withstand the passing of time. Almost four years in, and we are always looking for more ways to make our brand more ethical and sustainable than ever. 
Below are 5 reasons why you should always choose ethical swimwear:  
Fair wages and working conditions
Unfortunately, most of the clothes we wear are made in places we would never want to work in, let alone live in. And that is the cost of fashion, we purchase a garment to become someone else, while depriving the people who made the garment from their basic rights. When you buy an ethically-made garment, you are buying a garment that was made in a clean and safe environment, while the worker's rights are upheld to the highest degree and they receive proper compensation for their work. That is the kind of environment where our MIGA suits are made.
Diversity matters
Ethical brands take their stand before an issue comes to a head. An ethical brand understands the unique problems that affect their community and takes action. At MIGA Swimwear we are committed to including in our internal team, campaigns and throughout our brand people of all abilities, Black, LGBTQ+ and all age groups. We donate 5% of our stock to members of the disability, visible difference and chronic illness community, and we also donate 5% of our sales to organizations that support these communities.
Reducing consumption 
Ethical clothing is the opposite of fast fashion. It is made to last so that you don't have to continue to buy a swimsuit every season. Tests conducted by our fabric mill show that the fabric we use in all of our styles is twice as resistant to chlorine and suntan oils. If after 1-2 years, our swimsuits don't live up to their quality you can contact us and you will get a response from us. 
Reducing carbon footprint 
The global fashion industry emits 1.7 billion tons of CO2 per year — more than the amount produced by international flights and shipping. We produce in the US to cut down the CO2 emissions that would be generated if we produced in China, for example. Additionally, we save energy in small ways too. For example, we hand deliver our orders when the customer orders are in NYC and in our office we keep our electricity use to a minimum (this means we crack the window open before turning on the HVAC unit and we make sure to turn off any light that is not in use). We also keep our use of plastic to a minimum, for example the plastic bags the fabric uses to ship the final product to our warehouse, are then reused for the following collection.
Experience over newness 
The need for newness which usually leads to buying a new product you don't necessarily need, can be created through other ways, like storytelling and connections with peers through shared experiences, giving users a sense of belonging. As a brand we aim to provide you with more than just a garment. We want to make sure that after you stop on our website, you continue to learn from the experience of others. We believe that only through increased awareness, education, representation and engagement we can combat ableism and contest the stigma of looking differently. And that is ultimately, the reason why we are here. 
Next time you are about to purchase anything, whether it might be swimwear or something else, think about this list. It will help you decide whether you should buy it or not. Remember not buying is always the best choice but if you must, let's do it ethically.