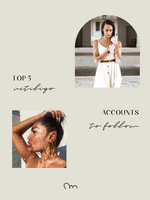 Top 5 Vitiligo Accounts to Follow
You probably follow Winnie Harlow's account, but there are plenty of other vitiligo accounts you should be following. Below are a list of our top 5. 
Vitiligo is a chronic condition that causes areas of the skin to loose color. Vitiligo affects 1% of the global population. In the US, alone, there are more than 200,000 cases per year. However, like many other skin conditions, there are a lot of misconceptions that surround it. 
Below are a list of Vitiligans who we believe contribute to diversify, and communicate their experience with integrity and honesty, singlehandedly breaking stereotypes.
Talia Singarum
Known for her makeup tutorials, Talia is from South Africa and she is signed to a modelling agency. You can follow her here.
Mary Aquino
"Now to make things worse I lived in Miami, Florida which means summer all year round. My classmates wanted to go to pool parties, the beach, play sports and I felt weird and out-of-place because I looked different." Learn more about Mary's story.
Natalie Ambersley 
"During my teens I struggled with my identity. Being mixed race but having a higher percentage of white skin, made me insecure. I started to question just how much I truly connected with my black side." Learn more about Natalie's story.
Shankar Jalota
Shankar uses his platform to not only raise awareness about Vitiligo but also about male mental health. Follow his journey. 
Maika Celi 
"I prefer when people come up to me and ask me about my condition. It is worst when people just stare and judge, or people that have close-minds and assume vitiligo is contagious. " Learn more about Maika's story.
Want to find more Vitiligo accounts, follow @vitiligo.beauty.