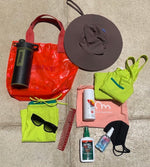 What's in our summer bag?
Here are 5 essentials you should always keep in your summer bag. 
With temperatures reaching almost 70 this week, I can't help but start daydreaming about my next beach trip. One of the many perks of living in NYC is having so many beaches to choose from. Yes, the beaches here don't come close to the beaches in Costa Rica, but I will take a beach over no beach any day. 
For your next beach escapade, don't forget the following 5 essentials:
These are our summer bag go-to's. Traveling soon? Let us know, we would love to send you a complimentary suit!