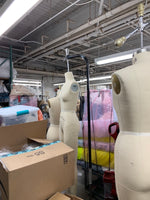 American Made Brand: This is why
This is why we chose to be an American made clothing brand and why it matters.
At the beginning of our journey, it wasn't clear whether we would be an American made clothing brand. I did brief research in Costa Rica, where I am from, to see if we could produce there and give back to the country where I grew up. 
With time, however, it became clear that managing production in Costa Rica would be tough while managing other aspects of the business in the US. So I decided to look in my neighborhood i.e. the Garment District. Naive ole me, thought that if I took a manufacturing tour I would be able to find the right production partner. I was wrong. 
I found a middleman, or should I say middle-woman, that promised me to help me create our first samples. Not only did I reek of inexperience, I was also very honest about my lack of production knowledge in hopes that she would take extra good care of our brand. She didn't. 
After 8 months of painful waiting, we got our first samples. For context it usually takes 2-3 months to do product development, fast-fashion can produce a whole collection in less than 2 weeks. This to illustrate how little this company cared about our business and time-to-market.
Once we finished our Kickstarter with a total of 60 units to deliver, I knew we had to change gears. So I used a different factory, this time in New Jersey. This meant, we had to start product development all over again. And unfortunately, they were not a good fit either. 
Although the factory claimed to be highly-skilled in swimwear production, we received some of our suits with clasps that were sown backwards. Not only did some of the styles fail very blatantly quality checks, they also delivered the final products with a 3 month delay. 
At this point, I knew I needed help. I knew I needed someone, a third-party, that could keep our future factory partner in check. I also knew I needed to hire a pattern-cutter that could execute on our creative vision. Lastly, I knew that all of these new hires would only be successful if they were paired with a high-quality, responsive and professional factory. I knew what I needed and for the second half of 2019, I didn't rest until I found this dream team. 
Today, the factory that we work with is better than we could have ever imagined. The factory owners go above and beyond complying with the USA manufacturing and labor laws. They uphold deadlines and deliver top quality products, every time. The workers are highly specialized and talented at what they do, and remunerated as such. The majority of the workers that sew our MIGA suits are Latina women, who also are the heads of their household. 
Although finding the right production partner was not easy, we are committed to producing in the USA. This is why we are an American clothing brand:
Labor Laws:

A

lthough the US has the worst record among major developed countries when it comes to workers' rights,

California

, where our factory is located, is one of the best states to work in the US. It ranks 3rd in terms of rights to organize, worker protections and

regulations. 

CO2 Emissions: By producing in the US, we make sure to keep our CO2 emissions lower than the average fashion brand that manufactures abroad. Although we still import fabric from abroad (Italy) and then transport our finished product from California to New York, we hope that in the near future we can have bi-coastal fulfilment centers, reducing the distance between our product and our customer, and thus, bringing our CO2 emissions down. 
Retain Skill Sets:

My experience trying to find reliable and skilled factories in the US is a reflection of a very clear problem that the US garment industry is having. In 2020,

manufacturing jobs

fell by more than 1.3 million.

When brands move their production overseas, not only are they decreasing jobs in the US but also losing highly-skilled workers to other industries. We are committed to keeping those skills in our country and making sure we create more jobs. Especially in the wake of the pandemic.

Close Relationship

: Producing in the US means that we get to visit our factories regularly, maintaining a close relationship with not only the owners, but the people that work in these factories. If we manufactured abroad, regular visits would not be possible. 

Ideal Partner:

As a small business, we do not have the resources to conduct as thorough of investigations on the ethics and sustainability of factories as big companies like Patagonia can. However, by working with factories that have been vetted by other companies whose ethics and sustainability efforts we want to emulate, we have been able to find the right factory for us. 
As the true cost of fashion can no longer be avoided, we hope that our customers will continue to demand more from our processes and it's transparency, as well as uphold a sustainable and ethical lifestyle. If you have any questions about our process, we are here to answer them.