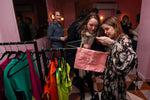 What it means to be your own boss
What it means to be your own boss means you are never not learning.
Lately, I have been reflecting a lot about what it means to be my own boss. Perhaps because our four year anniversary is around the corner. The exact day of MIGA's anniversary marks the day I decided to incorporate our business but more importantly, it marks the day I decided to move away from a job that no longer served me. 
Prior to this job, I had the privilege to go back to school and get my master's degree at Central Saint Martins UK. Master programs are incredibly self-led, I chose my field of study and having classes just three times a week meant that you were expected to use the rest of your time wisely and ultimately, learn how to manage your own time. This independence proved to me just how productive I could be when I was intentional and truly passionate about my pursuits. 
I wish I could say that since then it has all been peaches but the reality is that when you are your own boss, you are always learning. You are the person on the hook for everything and you are never not learning, and that leads to burnout. If you are a regular around these parts, you know I am no stranger to experiencing burnout. The difference being that before I thought burnout was only possible when you were in a job that didn't align with your purpose. Now I realize that burnout can also happen when pursuing your own dreams. Not on someone else's clock, but on your own. 
Since August, I have been experiencing tremendous feelings of dread and exhaustion. My husband was the first to notice, then close friends and colleagues. Something wasn't sitting right. So I decided to pause, first pausing all marketing. Every time a Facebook email would hit my mailbox, at approximately 7pm, reminding me just how much money we were spending on a platform that just doesn't work for our brand, dread would ensue. Then came the pausing of my actual day-to-day activities to just do the bare minimum. Yes, this was no longer about "allowing myself a break"; it was mandatory. I am using Michaela Coel's quote as a guiding light through this journey. "Do not be afraid to disappear, from it, from us, for a while, and see what comes to you in the silence."
I would like to say that I have arrived at a grandiose conclusion on what MIGA will look like in the upcoming years, a plan for the next four years. But I haven't. I am still in the process of figuring it out and I am deeply committed to fixing myself first because I recognize that MIGA and Maria Luisa are incredibly intertwined. I need to continue to work on being more kind to myself and to take time to decompress. Like my therapist says, I cannot pour from an empty cup. With that said, I will be taking time-off starting December 10th and won't be back until next year. If you want to get your suits right on time before the holidays, do it before that date as our fulfillment center (aka me) will be closed. In honor of our four year anniversary, you can go ahead and use code 40for4 to get 40% off your next order. As always, thank you for your patience as we undergo these changes and for wanting to be part of my journey. I am forever grateful to all 5K of you.