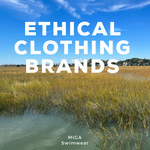 Our Favorite 5 Ethical Clothing Brands
This holiday season make it your thing to support ethical clothing brands, you won't regret it.
Ethical clothing brands turn off a lot of shoppers because of their price tag but there's a reason why they cost what they cost. As opposed to buying from an Amazon vendor that doesn't care if their workers were properly paid or that work in unhealthy spaces,  the brands below are going the extra mile to make sure everyone in their supply-chain is not only ethically remunerated for their efforts, they are also mindful in the impact their product has on the environment.
Here are some brands that although they are not cheap, they are making it easier for us to move away from fast-fashion. I have tried all of them and I can say that they are worth every penny.
Girlfriend Collective
Hands-down the best workout clothes that I own. If you are like me and you spend most of your workday in workout clothes, look no further. Not only is the fit insane and their sizing incredibly inclusive, almost all of their styles are made out of recycled plastic bottles. That is a win-win all around. They have a 30% off sale going on right now.
Kotn 
Last winter I was in the market for a camel color turtleneck and I found it here. Not only are their products really well made, all of their garments are made in fair and safe environments. Additionally, Kotn has helped impact over 100,000 lives in Egypt by building schools and funding 2,000+ farms. This is a brand that is affecting change beyond their factories, directly impacting the communities they work with. 
Universal Standard
This right here is the holy grail of inclusivity. As a small brand we aim to be as inclusive in our sizing and in our fashion shoots as Universal Standard is. Their sizing ranges from 4XS-4XL. Although their manufacturing processes could be more transparent, this brand is leading the way in terms of how we think about sizing and that is truly ethical. 
Mate The Label
Perhaps just like me, you graduated from your college t-shirts with raggedy pants to adult pajamas. Mate The Label helped me get there. This brand only uses natural and nontoxic materials when crafting its clothes and is climate-neutral certified. Will be buying from them again.
MIGA Swimwear
Yes, I know it is self-serving to include us in this list but hear me out. We are on a mission to create swimwear that will last you more than 100 wears and in order to accomplish that, we only work with ethical manufacturers stateside. On top of that, we source our fabrics directly from the mill in Italy which guarantees that the fabric has not been tampered with and that it will sustain the wear and tear that is all too common in swimwear. For limited time only, get your MIGA 40% off with code 40for4.
These are our top ethical brands, did we miss any others? Let us know in the comment section :)