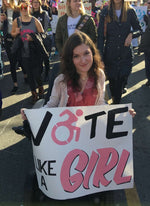 Have you heard of Anna Landre? If you haven't, you should. 
Anna Landre is a New Jersey-bred disability advocate. She has taken it upon herself to advocate for this community, in ways that many her age haven't. At first she was lured with an easy way out, but she turned it down and made sure to take it state-level to make sure the solution to her problem not only benefited her, but her whole community. And that is truly what an advocate is.
Anna is a sophomore at Georgetown University, studying Latin America and Africa regional and comparative studies. She recently came back from studying abroad in Florianopolis, Brazil. "The civil rights rhetoric is stronger in Brazil [than in the US]," she claimed, as she was retelling a situation when the accessibility platform broke down on the bus she was trying to board. People started confronting the bus driver saying, "it is her right to get on the bus." "You just don't see as much of that in the US," she ascertains. 
Earlier this year, it all came down to brass tacks. Anna was told by New Jersey's Medicaid Office that they would be cutting down, substantially, the hours of her aid. The person who helps Anna do basic things like get dressed, cook meals and do her laundry. Having the hours cut could translate into her mom quitting her job to help her and losing the mortgage on their home. Real life consequences that would not only affect her, but her family.
Anna's team was successful at winning the hearing, but as luck would have it, an obscure state agency overturned the court's ruling. So Anna knew she needed to raise hell, and she did. She contacted local reporters and writers; she also took to Twitter. "I went mini viral," she said. Even her college was concerned and offered to increase her financial aid to compensate for having to hire a private aid. Anna decided against it: "that could only help me, what about others?" Grateful for her college's jesuit spirit, she wants to help this institution become more disability-friendly for future students. 
Soon enough, the public media pressure caused the state of New Jersey to offer a settlement which means that she will have her aid for the next two years. After graduation, however, she will have to apply again with there being a high chance that her insurance company will attempt the same cuts once again. Aside from the crippling anxiety all college graduates face, Anna can add the fear of losing her aid and thus, her livelihood, to her list of preoccupations. 
Anna is cognizant of her privilege. She had a pro-bono lawyer and the know-how of a resourceful college student to do what she did. Predatory cuts are still there. She was able to escape them, but what about everyone else? So following her college's slogan of women (and men) for others, Anna has been doing the work of a policy wonk, along with her college work. She has sent a "wish list" to her legislators in New Jersey to delineate all the ways the state, and dare I say the country, could do better by the disability community. In her list, for example, she addresses the fact that there are gaps between New Jersey Medicaid programs that 18-to-21 year olds face. Arguably, crucial years in determining your future success. Several of the reforms she suggested are already being made into bills that will go to the State Legislature.
Being from New Jersey, she admits, also made a big difference. "New Jersey is a very liberal state, if reforms are to happen, they ought to start in this state," says Anna. Yet, she is disappointed with the lack of leadership on behalf of Governor Murphy and even more disillusioned about the next presidential candidates. "Not one of them has been detailed enough in their disability policy," she says. How can you make laws for a group you do not understand?
We see this all the time with accessibility. Whether a building is accessible or not, for example, is always an afterthought. Having being a Georgetown graduate myself, I asked Anna, how did she get around in school? The school and its neighbourhood are notorious for its hills and cobblestone streets. She told me she currently lives in the only accessible apartment in Henle, one of the school's student residences, and the registrar does a good job of moving her classes to accessible buildings. Yet, most of her classes have 3 inch tall stages at the front of the class so when she has to do a presentation with her peers, she can't be included.
Underserved groups face discrimination and isolation on a regular basis. What makes all the difference, is people like Anna or the bystanders in the Brazilian bus stop, pushing for the rights of others. You do not have to have a disability or disfigurement to advocate for others—we can all relate to feeling at one point or another isolation and injustice. And if we can relate, we can empathize and take action.