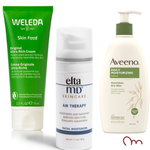 Top Skin Care Tips by Burn Survivors
Dealing with dry skin during the winter is no joke. Hence we have compiled a list of top skin care tips by burn survivors, the ladies who know best.
For this task, we have enlisted burn survivor Isabel, Kat and Raiche to share their wisdom with us. See their top tips below:
Best Hand Moisturizer:
Isabel, who has burn scars in her hand and arm, has tried all of the hand moisturizers and the winner is Weleda Skin Food. "It goes on thick, but absorbs beautifully." She uses it not only in her hands, but in dry sensitive areas like her face. Fun tip: professional makeup artists use it as primer!
Incessant hand washing during COVID19, meant that Isabel had to bring the big guns. For that she used Cerave Healing Ointment (CeraVe Healing Ointment | 12 Ounce | Cracked Skin Repair Skin Protectant with Petrolatum Ceramides | Lanolin & Fragrance Free. Isabel recommends that you apply it and then put on a cotton glove at night to heal your hands. She calls this "the perfect hand therapy," reminiscent of the paraffin treatments she received in physical therapy after her injury.
Best Facial Moisturizer
Isabel swears by Elta MD products, "the AM Therapy Facial Moisturizer and the Broad Spectrum SPF 50 are effective, yet sensitive enough for grafts."
Best Body Lotion for Winter
In order to avoid dry skin and cracks, Raiche recommends a heavy tub of Cocoa Butter. "Cocoa butter does wonders for me." 
Best Body Lotion for Warmer Seasons
Cocoa Butter can be a bit too much for warmer seasons, so Raiche recommends Aveeno. Kat agrees, Aveeno is the best overall moisturizer.
Best Body Oil 
Kat recommends her go-to home remedy. She mixes shea butter oil or coconut oil with a bit of vitamin E. She rubs it in her skin immediately after the shower. 
Best Active Sunblock
"Ocean Potion SPF50 Face Zinc Oxide Clear 1 has been my tried and true for years" says Isabel. It doesn't come off during snorkeling or other water sports. 
A fan of cocoa butter myself, I am excited to try their other suggestions. Didn't see your dry skin go-to here? Share it in the comment section!