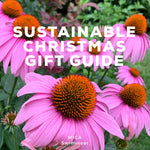 Sustainable Christmas Gift Guide
This year the ultimate gift is a sustainable Christmas gift. 
Is anyone else listening to the soundtrack of Home Alone on repeat? 'Cause I am. Christmas is one of my favorite times of the year because I get to travel back in time to my childhood. My grandmother always went overboard during this season, making sure the magic of Christmas tradition and the excitement of the end of the year was an unforgettable time to everyone in her community. She taught me the joy of gift giving. In her book, the gift was never about the price tag, but more about what it says about the relationship you have with the recipient. What better way to show someone that you care than by gifting them a sustainable christmas gift? A gift that shows you not only care about them, but the ecosystem they are part of? 
Here is what I am gifting this year:
For the family member that values self-care 
I don't know about you, but a day I don't have to wash my hair is a good day in my book, plus imagine how much water you are saving!? Introducing SHHHOWERCAP. Yes, $40+ for a showercap sounds excessive, but you need to think of it as an investment because it is. Forget about buying the CVS plastic disposable caps, and say hello to their better and improved sustainable cousin.
For the family member that prioritizes hydration
Both my mom and mother-in-law carry a bottle of water with them every day. Did you know it is recommended that women drink 2.7 liters of water each day? It's time we learn from the wiser generations, and embrace this healthy habit. Hello Yeti. Aside from coming in trendy colors, the Yeti design is made to withstand the passing of time. Bye-bye plastic bottles and hello healthy habits.
For the family member that is not playing around when it comes to sustainability
Did you know that composting benefits the environment by recycling organic resources while conserving landfill space? I didn't know anything about composting until I quarantined with my in-laws and while I don't have a yard, the Food52 Bamboo Compost Bin is a good alternative for city-dwellers that want to make a difference. 
For the family member that loves nesting
This year we have spent more time home than any other year, and we all have that family member that has taken it up a notch in terms of their "hygge" capabilities. This beautiful, comfy blanket from Coyuchi is the perfect gift while also being eco-friendly (their blankets are made with 52% recycled cotton from products customers sent back). 
For the family member that lives boldly and colorfully
For a relaxing swim indoors or for lounging, our swimsuits are made to be lived in with fabrics made entirely of post-consumer polyamide yarns and regenerated waste material fabrics. We have created a swimsuit that combines both comfort and functionality without increasing your CO2 footprint, and that is something we are very proud of. 
Let me know how your Christmas shopping goes and remember that this list is just the tip of the iceberg. Before you purchase any gift this season, try to think if you can find a substitute that is made locally, using recycled materials or buy second hand. If the price seems too good to be true, it usually means something is not being properly accounted for, whether it is labor or the cost to the environment.