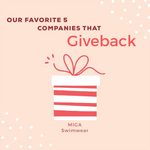 Our Favorite 5 Companies that Give Back
What better way to celebrate this season than by supporting companies that give back. 
I don't know about you but I have never been more excited for Christmas to be around the corner than this year. Usually I am running against the clock, between launching a new collection and holiday shopping, but this year has been truly different. There is nothing like a pandemic to keep your priorities straight, so this year we have decided not to launch a new collection, but instead look inward and find spaces where our brand can be doing more for our community. 
This year has been a tough year for businesses and consumers alike, so I figured I would share with you the top 5 brands that I admire and that give back in meaningful ways to their communities. Whether their products give back to the earth (Sustainable) or to their immediate communities (Ethical), I know this year more than ever we are looking for intentional ways to give to others and support the organizations that matter most. 
Gift Ideas:
As the year comes to a close, try to find the silver linings of 2020. Maybe this year you got the most rest you have ever had or had the chance to spend more time with family. Maybe this year you took a step back and realized that doing the same thing over and over again expecting a different result was not the way to go. Or maybe 2020 brought tough challenges that will put you on the road to success for 2021. Whatever it was, let's remember to be extra kind this holiday season and as we feel desperate for the need to celebrate and come together, that we do so in the safest way possible.