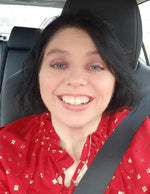 By: Valarie Robbins
August 25, 2018 started out like any other Saturday- a lazy morning with coffee and the dogs at my feet. The afternoon was full of household chores. There was nothing to prepare me for my life being forever changed. I decided to take a relaxing bath, something I enjoyed immensely. The bath would begin with me being scalded terribly on my lower extremities and end with me being flown to a burn center 1 ½ hours away. I was not careless. As someone with mobility limitations and severe neuropathy, I was cautious in the bathroom. The water felt warm and relaxing…until it didn't. The water became HOT quickly. Unfortunately, I altered my routine and laid back while the tub was filling. I could not get up, could not reach the faucet, and panic began to sit in. I was home alone. There was no one to hear my cries for help. It was terrifying. 
It is estimated that I was in the tub for 10 to 15 minutes.  Death was a certainty. I thought of my daughters, Meaghan and McKenzie,  who have experienced far too much tragedy in their lives and my grandsons, Luke, Logan and Elliott, and I did not want them to grow up without their Grammie, so I somehow found the strength to climb out. My feet were blood red, skin was falling off and the pain was unbearable. I wasn't sure I would keep my toes. The burn specialist looked at my feet and said, "your water heater is turned up as high as it will go."  I said, "there is no way." Anyone who knows and loves me is aware of my difficulty with judging temperatures. He was right.I have a good idea of the who. I don't know the why.
Six weeks of hospitalization gave me way too much time to think. Ultimately, I came to the realization it doesn't matter why as I am accountable for my own actions. I choose how I show up to this journey. Some days are easier than others, but that is true for us all. My girls saw me in a vulnerable state for the first time ever. They faced the possibility of losing their only parent. It was tough on them, as they worried through 5 hours of skin graph surgery, saw me during wound care, and found themselves initially assisting me in ways they hadn't before.None of us knew a thing about burns or wound care and truth be told, we still wish we didn't.
Even medicated it is hard not to cry, yell out or even lose hope. As a woman of faith, I found myself repeating Philippians 4:13, "I can do all things through Christ which strengthens me" over and over again.Faith has helped but also humor, as I have learned to love my "fish feet" and "lizard legs."  I am not 100% there, but I am laughing about it and those around me feel comfortable laughing along. It is a solid start to recovery.