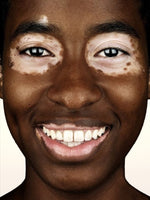 By: Mary Aquino
Honestly who cares about others' opinion of you? Your skin does not define you. You are beautiful. These are all phrases I wish I told myself back when my vitiligo began to spread and became a lot more visible than just small spots. When I was 9 years old, I was sitting in the computer lab with my friend and I showed her a new spot that had shown up after a fall but didn't seem to leave. Her words never left my mind: "Wow, that's kind of cool." See, once I hit middle school, I didn't associate myself with those words. I closed myself off from meeting new people and participating in big events for school, especially the ones outdoors. I went from being an extrovert to an introvert.
Now to make things worse I lived in Miami, Florida which means summer all year round. My classmates wanted to go to pool parties, the beach, play sports and I felt weird and out-of-place because I looked different. In the back of my head, I knew it was just skin and it wasn't that bad but I wanted to look beautiful to others. Afterall, Miami is all about beauty and beach bodies, and I didn't fit into any of these categories.
Instead these were the thoughts that flooded my mind. Would boys like me? Can I go to the pool? No, I look ugly and everyone else would laugh at my skin. To add to the repertoire, a guy in the schoolbus once said to me "You look like a Dalmatian dog." At the time, that comment alone was all it took to make me overthink how I saw myself. Maybe he's right, I am ugly. I never saw my skin as a positive thing. My family and close friends would tell me otherwise, but how was I supposed to feel?
Everything changed when I met a friend of a friend who has vitiligo. Her skin is more of an olive tone, lighter than me, but her spots are so vibrant and visible. They were more spread out than mine. We went to the beach together and she wanted to show me that it wasn't too bad walking on the beach; she wanted to show me that others around me would not react the way I'd imagine.
Another person who aided in my change of heart was British photographer, Brock Elbank. When I was studying abroad in Europe, I did a photoshoot with him and that experience changed the way I acted towards my own vitiligo. I was shocked when he said: "It's funny because everyone who has vitiligo thinks everyone else's vitiligo pattern is beautiful, but think theirs isn't." Learning that so many of his models felt the way I did, reassured me that I wasn't alone.
Recently, I uploaded this picture on my Instagram and it took a great deal of will power to post. I like my skin more now, but I've always struggled with my legs because that's where most of my vitiligo is.
My story with vitiligo is never-ending because with each year that passes a different challenge arises but I don't regret the struggle because it has gotten me to who I am now. Looking back, I could have saved myself some time wasted on feeling the way I did. Just look at how the world has changed! Winnie Harlow is a supermodel. So many beautiful Instagram role models and influencers are changing perceptions on the regular. It's time we see our own skin and flaws, whatever they may be, as beautiful!
Photo credit: Brock Elbank