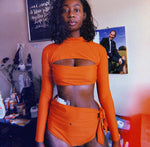 By: Tonya Ingram
I have been so many different women since I was diagnosed in 2013. At 22, my life was changed forever. I would know more about chemo and dialysis than romance or knowing how to drive. I have sat in more hospital beds than open mics. I have lost my hair, been covered in stretch marks, had three catheters surgically placed on my body. I have cried more than I can count. But thank goodness for what this chronic illness has taught me. How to show up. How to believe in myself. How to have a voice and use it. How to fight and laugh and love. How to love every fucking part of myself. Especially on the bad days, when my body is anything but healthy.
I am proud of myself. I look at the woman on the right for all that she has survived to call today a miracle. I look at the woman on the left for all that she survives to keep calling today a sun she belongs to. The removal left a scar on my right collarbone. The scar tells a story. The story goes: I am still here. I am not perfect. I sometimes confuse love for "take my lonely and hide it from myself." I dip Oreos in water and have an absurd crush on Bob from Bob's Burgers. I want to help the world. I want a kidney. The story goes: my body is weak but my heart is not. May is mental health and lupus awareness month and I am alive another day to tell Lupus and depression that it cannot have me. I am kicking into the sky like it is the only way up. Keep kicking, friends. We are on our way.
We know what it is to be vulnerable, the greatest kind of strength there is. We wear purple because despite the condition of the diagnosis. Despite the chemo or pills or depression or fatigue or rashes from the sun. Despite the condition of the soil, we have chosen to bloom. I love us. I see us. And I am so damn proud of us.
Follow Tonya Ingram at @tonyainstagram