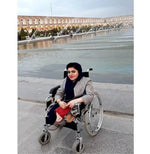 By: Maedeh Tavakoli
Iran is beautiful. It has wonderful jungles and two seas. In the middle of the country, there are deserts and mountains. As far as historical places go, there are too many and I love them all. Some of the ones that come to mind are 33 Pol bridge, Naqsh-e Jahan Square, and Takht-e Jamshid Palace.
Growing up in Iran, people don't think my condition is normal. Some families feel ashamed about having children with conditions like mine and choose to hide their kids, since they believe their child's diagnosis is a result of the bad things they did. They cannot belief that God gave them a child like this! My condition, however, never really affected my family. If it did, we all tried hard to stop it. We had to be strong to be there, to live in the community. Sometimes their words, their staring and their behavior towards me made me upset and I felt bad but I stayed in public places. We made sure to always talk with people. I talked and laughed with them to make this normal for them. And I continue to do this every day.
I have a genetic disorder called Osteogenesis Imperfecta, also known as brittle bone disease. It causes bones to break easily. This means that sometimes you cannot walk or move your body. I can move my body, but I can't use my legs.
When it comes to the beauty standard in Iran, the majority of people don't care about their inner beauty. They see beauty as what you see in your face and body appearance. So they do too much makeup and plastic surgery, even if they are not in a good economic condition. Also they don't care about being unique and make themselves look like a face or body they saw somewhere on social media. There are some people, however, who believe in the beauty of their personality and love and accept their faces, but they are a minority, especially compared to those who can't love their real face.
When I am feeling down with myself, I try to relax and repeat this to myself: "I will win this life if I get my dreams." One of my dreams is to change what others think about disabilities, even if I just change perceptions of one person. That is why I share my personal life on Instagram, wearing the clothes that I love, because I believe that if people see humans like me in fashion, it can change their thoughts about looking differently and beauty overall. My hope is that others will believe in themselves and will be comfortable with their body or face differences. I think everyone has a beauty, and they should show it. Beauty is not about being "the best."
I don't care about my disability and I have gone on fine with all of the medical problems. I always try to do whatever I love and don't think of my disability limiting me, because it is a part of my identity. I could not know myself as a "normal person." People are born with different conditions, some worse than me, others better than me. What matters, though, is
how you want to live and how you will live
. There are people that have a good healthy life, but they don't enjoy it.
It matters how you live, not how you are born.