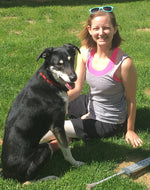 By: Alicia Souveny
Three months ago I was hit by an SUV on my way to work. The weeks before I had played in a multi-sport league with a group of friends. I had celebrated Valentine's day with my husband by standing in our kitchen for hours, while we cooked a fancy meal together. I had been going to work. As a pediatric physiotherapist, I spent most of my days on my feet: crouching,  lifting or teaching exercises to kids of all ages. February 16th was also meant to be a work day until my accident happened. A fight for my life. Many scars, a colostomy, a minor brain injury, a couple skin grafts and a below the knee amputation later, there are many things I can't do.
I can't slide into home plate, kick a soccer ball or balance well enough to return a serve. I can't ski. I can't run. I can't hike. I can't hide my disfigurement. I can't pick up my nephew and hang him upside down. I can't take my dog out. I can't carry a bowl of cereal to the table. I can't walk without aids.
And that's not all. I also can't poop in a toilet or control when I fart. I can't keep my skin from getting irritated around my new ostomy site. I can't go swimming. I can't shower without a bag over my leg. I can't leave the house without a backup ostomy and wound care supplies.
I can't hang out in large groups for too long. I can't make it through the day without a nap. I can't remember a month of my life.
But there is still a lot I can do.
I can wake up next to the person I love. I can cuddle with my dog. I can laugh with my friends. I can hug my family. I can keep score at my slow pitch games. I can work hard on getting strong for when my skin is ready for a prosthesis. I can make plans to hike Mt. Assiniboine next year. I can help make dinner from the table. I can get around on crutches.
And I can poop in a bag! I can look forward to swimming in the ocean again. I can think of hilarious Halloween costumes for years to come. I can have fun. I can cry. I can motivate others. I can learn how to be a better physiotherapist. I can relate. I can live.