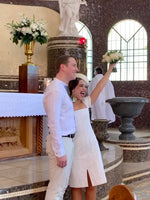 What my wedding taught me about body confidence
The second I got engaged, I knew that the upcoming year I would have to work hard to look my best. Doesn't matter where you are in your self-acceptance and self-love journey, you will feel the pressure. A comment by a relative asking if you are on a diet, a million or two comments from your wedding vendors on how slim you look and then there are the fittings… to make sure you don't slide too much one way or the other. 
This need to look perfect also permeates every single detail of your wedding, it has to be perfect. I have written before about how perfection is unattainable because it doesn't exist and a wedding is a perfect, no pun intended, example of that. Just think about this, how can a wedding be perfect when the only test run you get, with all the vendors and all the bells and whistles, is the final one?
So did I lose weight? I did. Rest assured that I made sure to remind myself to not get fixated on a number, but I definitely reached the goal my paediatrician would always remind me of when I was growing up (please be mindful, I have been the same height since I was 15). How did I do it? I want to think that being home for the weeks leading up to it had something to do with it. Being at home usually means getting my hands on every Costa Rican food I don't usually have access to. This time it meant eating very healthy because of all the fresh produce you can get there.
Another factor was working out. With the exception of a couple of months, I made sure to work out 3–4 times a week, every week, for the whole year. I don't like working out and since I had seen an orthopaedic surgeon a couple of months prior who had advised against doing HIIT workouts, it was hard to motivate myself. I had the privilege to work with a personal trainer, Tiffani Robbins, for the last 2.5 months before my wedding and it helped me to quickly form a habit of working out. So much so that I made my then fiancé workout with me during Christmas break. Since we wanted to eat all the holiday goodies, my PT advised me to just keep working out as much as I could. "You will feel better if you continue," she said and she was right. By working out, I curbed my fears of not fitting in my wedding dress.
Once you are serious about making working out part of your routine, you become more aware of what you are putting into your body. I say serious because for many years I would go through cycles of working out a lot and then stopping completely, just to end up with hip and knee pain. Once I started working out with the PT, the hip pain no longer bothered me. I started to realize that working out was no longer going to be optional for me, but rather a requirement.
If you are concerned that our blogs will now become about working out and clean eating, don't fret. I just felt like I needed to share this crazy, once-in-a-lifetime experience that really made me question my body-confidence. How can I advocate for self-acceptance and self-love, when I felt like I needed to change myself to walk down the aisle? I wish I hadn't had the urge to get fit for my wedding but I knew that the only way for me to push my insecurities aside was to put in the work.
More wedding photos to follow ;)
** Has anyone else felt like this? Would love to hear your thoughts.**