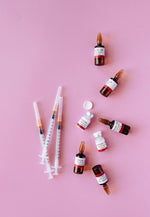 Sharing my health condition
By: Lauren Mcfadyen
There's a lot of things that will change because of the pandemic, but who I choose to share information about my health won't. This is why my health condition is where I draw the line.
I have a pre-existing health condition, which means I qualified for the COVID19 vaccine in the state of New York as part of Phase 1B. I'm a 28 year old woman and have been able to work from home in my tech job for almost a year. I have quite obviously jumped forward in the line for a COVID19 vaccine beyond others my age. 
My health condition has never exactly been a secret, but who I share it with has always been limited to trusted friends or on a need to know basis. The COVID19 vaccine roll out has created a ranking of the population from most to least vulnerable, and my position in this line has put an unexpected spotlight on my health.
My initial excitement at my eligibility was quickly replaced with a level of discomfort after the announcement that my turn for the vaccine had finally come. At first, I didn't have any reservations about telling people beyond my inner circle that my new pastime was to refresh all the vaccine booking websites in hope of securing an appointment. Whilst most people sympathised with my struggles to book an appointment, a few people became suspicious of how I could possibly be next in line for a vaccine. Their reactions ranged from a questioning wrinkled brow over a video call, to being outright asked "Why are you eligible?" and I quickly realised this was a topic of small talk I was no longer comfortable participating in. 
I'm sure those asking about my eligibility were trying to work out what loophole I'd discovered to see if they too could get a vaccine earlier than expected. No one's intent was to make me uncomfortable, or to question if I had jumped the imaginary queue we are all standing in. But unfortunately, I found myself now choosing not to share my happy news of securing a vaccine appointment.
There's a lot of things that will be changed by the pandemic, but one that will not change is who I choose to share information about my health with. So yes, I have now had my first dose of the vaccine, and no, I will not tell you why I am eligible. Please remember that a lot more people have pre-existing conditions than you think. If someone unexpectedly tells you that they have received the COVID19 vaccine, please do not question why they are eligible. If they wanted to share the backstory for their health with you, you'd already know. 
Instead you can ask the following questions: 
How are you feeling?

Did you have any side effects?

Do you know any tips for securing an appointment for when it's my turn?

Do you know any websites I should visit prior to my appointment to get more information about the vaccine?

Do you have any Netflix movie recommendations?

Or any other question not related to COVID19, you get the jist!