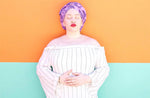 In recent times, the agenda of equality and diversity has been at its peak. Some may argue that this trivial topic is a barbaric first world problem that needs to be starved of its attention.
Well, my name is  Joannè Dion and I am a curve Model. I have a condition called albinism which restricts melanin in my skin and hair. I started modelling about a year and a bit ago and noticed something that caused a bit of confusion within me.
I had an interview with a magazine and was ushered the prep for questions, where my eyes scanned past these words "what challenges do you face as a diversity model?" I was shocked! It's bad enough that curve models have been separated from the main division but now It seems that those who have certain disfigurements or disabilities are now archived into a niche that is "diversity modelling". 
Which brings me to my main point, surely this notion of diversity being used as tokenism needs to change. When brands only hire "diverse models" when doing special campaigns, it furthers the idea that these people are nothing more than a short-live tick off the Corporate Social Responsibility list. Don't get me wrong! I do believe some brands are indeed trying to evolve in their ways and are showcasing a range of diverse models. Take ASOS, for example, they have truly diversified their models and their range of clothing eg. Plus size, petite as opposed to other brands such as Michael Kors, who further the struggle.
I guess what I'm trying to say is that there is indeed a need to merge "diversity models" into their divisions and book them as you would "normal" models.
So what can brands do to change the narrative. Well… hire different models. To the brands that use diverse models -PAY THEM WELL. 
Joannè Dion is a model, student and business owner. Her modelling career started on her very rocky journey to self-love and since then Joannè has used her platform to challenge several social discrepancies. She was part of the Misguided Campaign #inyourownskin and most recently, was featured in the BBC. You can follow her @joannedion_
Feature photo by: @abdelkeitatavares