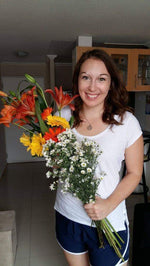 More than Skin Deep: My experience with Vitiligo
It's probably the first thing that most people notice about me: that tuft of white hair where the inner half of my right eyebrow should be—my vitiligo eyebrow. I like to make light of it and say it's the reason I'll never be able to commit a crime -- people would pick me out of a lineup in an instant -- but beyond being the punchline to my joke, my half-white eyebrow is part of a disfiguring dermatological disease called vitiligo. In vitiligo, melanocytes (the cells that produce pigment) are destroyed, resulting in color loss in hair and skin.
While vitiligo affects the skin, it is more than skin deep. In fact, as a suspected autoimmune disease, vitiligo is strongly linked to a number of more serious autoimmune diseases. Recent research indicates that 20% of people with vitiligo have at least one comorbid autoimmune disease, with thyroid disease, psoriasis, and alopecia areata the most common culprits. Hair loss-causing alopecia areata is a staggering 31 times more common in people with vitiligo, while thyroid disease (like Graves' and Hashimoto's) is 15 times more common. So for any fellow vitiligans out there, get your thyroid tested!
I am aware that my experience with vitiligo is different from others, as being pale makes the depigmented spots of skin on my face, back, and legs less noticeable -- but still not totally inconspicuous. Growing up, I felt crushed anytime a classmate innocently told me, "You've got some white stuff on your eyebrow," or the indelicate cashier at the supermarket pointed at my face and said, "Oh! You've got a little Cruella de Vil thing going on there!" Somewhere around middle school when I learned that facial symmetry was a key determinant of beauty, I embarked on a mission to make my eyebrows symmetrical using whatever combination of dyes, pencils, and brow gels I could convince my mom to buy. Thanks, Mom!
With time, I've actually come to love my little splotches of depigmentation for the opportunities they give me to connect and 'go beyond the surface' with other people. An "I love your eyebrow! Is that natural?" from a barista can lead into a conversation about embracing quirks. A curious question from one of my 12-year-old ESL students in Chile can launch a class discussion on confidence, beauty, and how our manchas y marcas make us unique. I mean, how many people are lucky enough to have an icebreaker right on their face?
While I may never have "ideal facial symmetry", I at least know now that beauty, like my disfigurement, is more than skin deep.
*** Was there a time while growing up that made you feel like you didn't fit a beauty standard? What was that like? Comment below :) *** 
Kelsie Wilhelm is a graduate of Georgetown University's School of Foreign Service, where she studied global health. Born in Japan, raised in New Jersey, and educated in Washington, DC, Kelsie has spent the past three years working in Chile and Tanzania. When she's not attempting to explain vitiligo in Spanish or Swahili, she can be found at Jefferson University's College of Nursing where she is currently a H.E.R.E. Fellow.