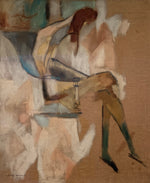 Inspiration Porn: What it is and What we are not
What is Inspiration Porn and why we believe that telling stories is instrumental to loving ourselves.
I recently had the chance to do a workshop on Growing Body Confidence for the Girls with Guts 2020 Virtual Summit. As we were about to wrap up, one of their members asked what I thought about inspiration porn. I always take this question with a bit of trepidation for two reasons: we use the word "inspiration" in our branding and our mission is to share stories of the disability, disfigurement and chronic illness community as a way to increase awareness of the experience and representation. We are not, however, in the business of making able-body people feel better off because they do not have the diagnoses that are represented throughout our brand. We are here to bring light and lightness to a life condition that has been weighted with stigma and fear, based on assumptions that disabled bodies are less important or tragic.
Although the word "inspired" can be triggering for some, we insist on using it because the stories we tell are not only inspiring, but they are validating. I grew up thinking I was the only one who felt shame about their diagnosis and who lived with the weight of a secret because I could conceal my difference. I grew up thinking I was the only one that had feet like mine. Now a brief search can take me to a Brachymetatarsia Facebook group, where I can connect with thousands of people who have feet like mine. Unfortunately, this group focuses mostly on the surgery to "correct" my feet. That is not the support I am looking for, and I am sure that it is not the kind of support that most of us need.   
The way that I have improved my own body confidence, challenging the insecurities I have about my body and how it compares to the beauty standard, my thick thighs and the disfigurement I have in my feet, has been through learning how other women have done so themselves. Some choose irony and humor, some choose spirituality. Whatever the self-love and self-acceptance journey, learning about their experience has only enriched mine. And I believe it can do the same for you. 
The more individuals I meet who happen to have a disability, chronic illness or disfigurement, be it visible or invisible, the more I realize that it is by sharing the stories of our community that we can love our bodies, as they are. We want to inspire others, whether disabled or not, to own their body story. We understand that feeling self-conscious about our body or parts of it, is a universal experience. We believe that learning about the experience of the disability, chronic illness and visible difference community can help able-body individuals reframe how they look at "the body", from how it should look to the beautiful biological vessel it is. 
As a brand, we want to help you prioritize your own self-love and self-acceptance journey as we believe this is the only way to truly find joy on this earth. Spending time challenging the negative talk in your head can have everlasting effects. Just imagine how the feeling of joy trickles down to all facets of your life, be it your career or your personal relationships. Thus, we have created a space, a community, where we can seek support beyond the doctor's office. Where you can share your body story and at the same time, find others that share the same pursuit to love and accept their bodies and themselves. That is the world of MIGA Swimwear.