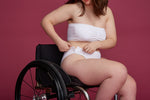 Inclusivity in Fashion: Interview with Helya Mohammadian
One billion people of the world's population have a disability, Helya Mohammadian is committed to improving inclusivity in fashion. 
In honor of October being Disability Employment Awareness month, we have teamed up with our friends at Slick Chicks, a patented adaptive underwear that is designed to empower people with a disability or physical challenge. I had the pleasure to interview their founder, Helya Mohammadian and talk about inclusivity in fashion. Below are her answers:
What does accessibility mean to you?
Accessibility means something different for everyone and we are all impacted differently by it. To me, accessibility means independence and empowerment. Accessibility makes things possible, like changing your clothes. No matter who you are, we all deserve to feel supported by products that offer a sense of self, dignity, and independence.  At the end of the day, it's about putting people first, showing empathy, and finding a solution to a real problem. Behind every purchased product is a real person with a real story and a very real need. Inclusion is at the heart and soul of what we do and I believe more companies should live by this if they want to be truly accessible.
What inspired you to start Slick Chicks?
My journey started after seeing my sister struggle with bending over to change her clothes following an invasive surgery. The post-surgery recovery left her feeling debilitated for several weeks. Just getting out of bed was a major struggle for her. Something as personal as putting on her underwear, she couldn't do alone. Not wanting to see my sister have such difficulty with her daily routine, I decided it was time to find a solution. Little did I realize that there was a bigger issue here. A product that I would later develop for someone like my sister has served a bigger purpose and impacted the lives of so many people around the world. For people with disabilities, chronic illness, and limited mobility, the daily ritual of changing may require additional care and support. We all deserve clothes that offer a sense of self, dignity, and independence. My biggest motivator now is the feedback and response from our customers. It's an amazing and diverse community of confident people, and the enthusiasm, love, and openness has truly touched me. Hearing body-positive stories and learning about how to make our world more inclusive has really become our number one goal at Slick Chicks, and we try to use that as our guiding principle.
What is the biggest challenge you have faced building the brand?
Part of the challenge early on was fundraising and proving that this was a new, but viable market. The other challenge was being a female founder and woman of color looking for funding. I faced many obstacles until I met another female founder and CEO, Michele Gay, whose story resonated with mine as her sister was diagnosed with MS. She saw the great potential and impact this product would have for so many people. So, she created a women's empowerment fund and made Slick Chicks the FIRST investment.
Where do you see adaptive fashion in 2 years? 5 years?
There are over 1 billion people or 15% of the world's population with a disability and who struggle with getting dressed every day. We are ALL aging and likely to experience some form of disability, temporary or permanent, at some point in our life. Though we have defined an underserved market, the bigger picture is that our products soothe a pain point in a growing market that can impact us all. I don't look at our products as purely for the "adaptive" space, I see it as products that bridge the gap between fashion and function and can benefit all people.
*** Courtesy of Helya and her team, you can use the code MIGA20 to get 20% off their site for the month of October. A purchase that is beautiful, functional and mission-led, COUNT US IN.