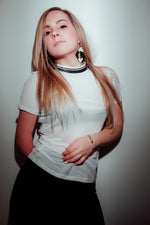 By: Kiersten Kelly
When I was younger, boys didn't want to date the girl with one arm. I knew this to be true when a boy in middle school told me that he liked me, but would never admit it to anyone because he didn't want to be made fun of.
I was born without my right forearm, I call it my nub. When I was younger I found that other people with limb differences called their missing limb a nub so it kinda just caught on. I didn't get to have a normal experience like other girls may have had as a teenager, but as I got older it became less of a factor. Once I got to college, guys weren't afraid to like the girl with one arm nor was it the main focus. The focus was my personality.
The thing that needs to be understood is that I don't see myself as a person with a limb difference. I'm just a person like any other, trying to make the most of my life and achieve my dreams. I just don't really think to myself "you only have one arm," unless someone points it out and starts asking questions. I'm just Kiersten. 
I'm very independent and the only areas that my family had to accommodate for me was in changing our home's door handle, so it would have a different direction and buying an electric can opener, so that it's less of a hassle for me. 
I am a singer/songwriter and a diversity model. I'm currently performing at various venues in Los Angeles, CA and spend most of my time writing. Recently, I walked at New York Fashion Week and I signed to Zebedee Management, so I'm excited to start working on projects with them. While I think the modeling industry is making waves at the moment, I don't see many people in the entertainment industry with limb differences, but I am hopeful that it will slowly happen. I have seen more diverse models in the past few years than I ever have. All I can think about is how I wish I had seen these beautiful women when I was younger. They are my role models and my biggest motivators. 
No matter the industry, we need to be accepted as equals. Disfigurement means beauty. It means uniqueness, character, and beautiful imperfections. Us that have visible differences are able to do the same things as anyone with all of their limbs and no visible differences. We are just as beautiful. 
We need to take concrete steps to create change. Casting agencies need to be more open-minded and expand their search when looking for talent for events or brand campaigns. We need to see beauty in all of its different forms. I think it all starts with taking what we were taught to see as beautiful growing up, and throwing it out the window because beauty shouldn't be defined. We are all natural, imperfect and raw in the most amazing way. I want to spread this message around the world.