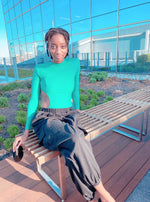 How to get your skin ready for summer
By: Raelle Brown
Around here we don't get ready for summer by losing weight, we do so by getting our skin ready. These are top 5 tips to get your skin ready for summer by someone who knows her skin best, an eczema thriver. 
Dry, itchy, flaky, irritating sensitive skin. Eczema has the ability to transform your entire way of living or simply cause mild discomfort. Having to be aware of possible triggers and allergic reactions that can show up on your skin as a rash, that itches like poison ivy and that can potentially be all over your body. 
Eczema is way more than physical pain, it can also cause great mental distress at times. Just think about it! Most people would be completely self-conscious and bothered by one pimple or minor flaw we could have on our bodies. Imagine having those marks potentially anywhere on your body from your scalp to your feet, depending on your severity or the time of the year. It can truly cause a great interruption in your mental health, whether it be anxiety in social settings, or depression while working and praying for your skin to stop itching and begin to heal. That's the impact and seriousness of eczema, but thankfully there are many ways to adapt to this reality and continue to enjoy life. 
Some eczema patients have their worst flares in the hot summer and others have them in the dry brittle winter. Having eczema since birth, I have experienced all types of flare ups and during all different times of the year. Similar to the care of a houseplant, our bodies in general but especially having skin sensitivities need to be catered to differently depending on the time of the year.
These are my top 5 tips to get sensitive skin ready for summer:
Start early:
During the winter, my driest skin season, I make sure to add salt or oatmeal baths to my routine. After my bath, I use thicker body butters than usual in order to retain moisture. I look for the purest, raw or organic kind I can find, I used this one last winter and would use again. This ensures that come summer, my skin can easily transition into the high temperatures.
All about the Oils:
My skin thrives in the summertime and all I need are natural oils like Aura Cacia's Jojoba and Josie Maran's Argan to moisturize and I am good to go! However, this wasn't always the case. I worked HARD to get to that point and not have to rely on medication to calm my skin. 
Stay in the know:
The more you learn about the science of skin and it being our largest organ to filter out toxics and more, the better you will be at maintaining healthy skin and managing flare ups. For example, I learned that I need to stay away from fragrance and any ingredients in skin products that I may be allergic to. Knowledge is power.
Skin check:
Because of my eczema, I have the habit of periodically examining my skin head-to-toe. Not only does this help me track how my skin may be reacting to my diet or the environment, it is also the best way to detect early warning signs of skin cancer. If you notice any change in an existing mole or discover a new one that looks different in terms of color, diameter or symmetry it might be best to go see a dermatologist. As part of my health routine, I make sure to have a skin check with my dermatologist every year.
Ideal swimsuit:
Although my skin thrives in the summertime there is still essential care that is necessary for sensitive skin, especially protection of UV rays, because despite the level of melanin, our skin is more prone to sunburn. Having sun exposure on those beach or pool days is so good for your skin as long as it's not overdone. Having swimsuits that are breathable, but yet cover my arms while offering SPF50 protection is what I look for in a swimsuit. Having a technically savvy swimsuit like MIGA that you don't overheat in and that it's wearable all day has been a life saver. MIGA Swimwear is truly everything I never knew I needed in a swimsuit because MIGA's the first of its kind to cater to sensitive skin warriors like you and I! You're proud to wear these pieces because they have a story behind them and they are top quality, giving you an ease of mind we always strive for. 
I hope these tips are helpful. I can't wait to see all the sensitive skin beauties still choosing to live their best life out in the summertime season and year round, while taking the best care of themselves in the process!