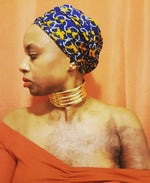 Curaçao June 2012 
I had a work meeting for a fashion event where my long synthetic dress had come into contact with a candle. After a few seconds of intense screaming my company hosed me down. I asked to be brought into the shower to cool down. As I looked at myself in the bathroom mirror I noticed that my chest looked…
different
I guess? Facing down, I noticed how the skin on my stomach and thighs had changed. Apart from the intense pain I felt in both my hands I tried not to let it bother me too much, because all I could think of was…

NEW YORK CITY: concrete jungle where dreams are made of…

...however now there was nothing I could do...
Early 2012 cousin E. and I were planning to take our annual trip to the Big Apple. As usual this was a holiday that we very much looked forward to. During long work hours I daily dreamed of walking down the streets of Bedford-Stuyvesant, having lunch at the Colador Café or eating cupcakes in Greenwich Village. For days I had already envisioned myself chilling on the JetBlue flight. A few days were left before my holiday would start.  As I arrived at the Emergency Room I asked a nurse if she could fix me up with some bandages because New York was waiting.
While the medical staff started to treat me one of the nurses yelled at me that I would probably be here for a long time and that I would probably feel bad for a long time as well. Excuse me? Oh crap…so wait…NO holiday? I heard what she said, but I did not know what she meant. I also could not figure out why she was yelling at a patient. Strangely enough my longing for the concrete jungle helped me get through the first crucial moments of the accident when the doctors were cleaning each burn. To me it was incomprehensible that my life had changed within less than a minute.
After seeing the painful grimace on an assistant doctor's face and how my chest had turned into two disks, it started to sink in.
Soon it became clear that they had to put me into Intensive Care. Oh no! What does that even mean? Nurse, what about New York? I let myself be treated and waited patiently for what would happen next. The next day a doctor informed me that they had to transfer me ASAP to a burn facility in Medellin, Colombia.

Colombia? Medellin? My mother grabbed her heart…''Ai Dios, is that not Escobar's city... are we going to get shot while trying to save her life?'' I couldn't care less because in a weird way I felt both happy and relieved:

Ok doctor, so basically you are telling me that I am getting sort of a holiday after all?!
*** What shocked you most about Renata's story? Do you think the hospital treatment would have been different in your country? Why or why not?"