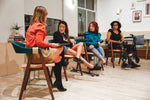 Last week I had the opportunity to moderate a panel on how to hire members of  the disability community. Speakers included journalist and Forbes contributor, Sarah Kim, marketing professional at Johnson & Johnson and shoe designer, Lauren Ruotolo, and Eman Rimawi, Access-A-Ride Community Organizer. As you can see from their titles, all of these ladies have jobs and have disabilities, but they are, sadly, a small minority.
To be honest I wish there wasn't a need for a panel like this, especially in 2019, but there is. Although research has shown that companies that hire people with disabilities double their net income and experience 28% higher revenue, only one-third of working-age disabled people are employed. 
In terms of policy, Sarah shared that so far Kamala Harris is the only candidate to provide an employment and education plan that exclusively focuses on people with disabilities. "With the majority of candidates failing to provide campaign websites that are fully accessible to people with disabilities, the unfortunate reality is that we are the last group of people on their minds when we deserve to be first," she claims. Sarah believes that the word "disability" is too often used as a buzzword in healthcare discussions, when in reality most of the candidates don't have a specific or comprehensive plan for Americans with disabilities. Her hopes, unfortunately, aren't that high.
Similarly Eman, who is the Access-A-Ride organizer for New York Lawyers for the Public Interest is not very optimistic about accessibility. A regular user of Access-A-Ride, Eman wakes up at 6:15am and doesn't get into work until 10am, if not later. "If I didn't work for the organization that I do, I probably wouldn't have a job," ascertaining that any other organization wouldn't be as understanding of her coming into work late.
Due to Lauren's experience working in corporate America, I wanted to know what she thought other companies should do to better recruit, retain, and support members of the disability community. In terms of recruitment, she believes that recruiters should do better in targeting this community and suggested creating diversity job boards, where the work of people with disabilities can be highlighted. A quick search online yielded the following organizations recruiters can partner with to hire more people with disabilities: Vocational Rehabilitation agencies, Disabled Persons Inc and the Association of University Centers on Disabilities, among others.
One out of four of today's 20-year-olds will become disabled before age 67, why wait to become a disability ally when you can start today? Below some tips I gathered from the panelists on how to be an ally to this community:
Don't assume

, if you don't know just ask. For example, if you don't know if someone needs help opening a door, just ask.

Don't be a fake friend

, if you are befriending someone with a disability to be their savior they will know your intentions right away.

Make them your +1

, include them in any activities you may be participating in and make sure those activities are accessible.

Meet them where they are at,

 understand that living in a world that refuses to cater to your needs can be exhausting, so don't take it personal if they cancel last minute.   
Photo credits: Laura Fuchs
Event hosted by: The Wing