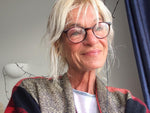 Loneliness and isolation have nearly killed me, yet I know I will never give up the fight to find happiness within myself. It is the feeling of happiness, with my scars, that is the hardest part. How do you do that when you live in a harness of scars?
I was three years old when my nylon nighty caught fire, leaving me with third degree burns on my back, chest, leg, arm, ear and scalp. Talking about my accident was a taboo; it was too emotional for my mother and my three older sisters, as they had all witnessed me being on fire. It also didn't help that we grew up in a unhappy, dysfunctional family. My mother was a strong, but heartbroken English woman and my step-father was an alcoholic. What was left were daily reminders of what had happened to me but with no one to talk about them.
School was hard, that's when I realised that I would have to deal with bullying, whispering, and staring. I was different and felt very lonely and isolated. I had learning difficulties, the doctor said I had word blindness brought about by trauma (now called Dyslexia). When I hit puberty, only one small breast appeared because of the injury. Boys were scared and not interested in me.
As I got older, I worked and traveled in many different countries and ended up in gorgeous yet quirky Cornwall, UK. I have brought up three amazing children, single-handedly, which is my proudest achievement. They have given me the strength to carry on after we left their father and when we lived in damp garages and in caravans without water and electricity. For all of the difficult times, we have been through it together. 
Now, my two oldest children have grown up and are traveling. My youngest is 18 and has one more year left at college. People often say what an amazing job I've done raising them. It sure wasn't easy while fighting my own daily struggles. Throughout my life, there have been many times when I have wondered how much more I could take. There has been good and bad times, but mostly extremely challenging. Growing up with so little emotional support has made me understand that I do not have to go through it all by myself. If this piece can help at least one person, I want you to know that even if you feel trapped by your harness, you are not alone.
**Can you relate to Deanne's experience? What do you do to combat loneliness and isolation? Share your tips below :)**