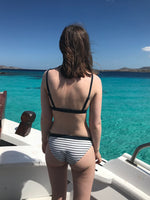 Coffee Dance Around The Greek Isles
For many years the Greek Islands were high on my list of desired destinations. Having grown up spending my summers on the east coast of Scotland, along with being a huge Mamma Mia fan, a trip to Greece was needed. For the last 13 years, our family had been going to the same resort in Portugal every year, and it was finally time to leave our comfort zone and explore somewhere new. 
Our two chosen islands for the trip were the famous Santorini and Paros, a smaller island. The itinerary was three nights in Santorini followed by a ferry to spend five nights in Paros before returning to Santorini to fly home. If you're looking for a beach holiday I recommend doing something similar and spending only a few nights in Santorini as it can be quite touristy. In the run up to the holiday I was constantly looking at photos of the streets, restaurants and sunsets of Santorini. I have to say it is even more stunning in real life and the photos do not do it justice...
While in Santorini, we stayed in the town of Imerovigli, a quieter town between Thira and Oia. It's less busy and more relaxing but with easy access to both main towns. Thira can be accessed by walking along the cliff side path for 25 minutes. Despite it being quite up and down and hot during the day, it gives you beautiful views and an insight scoop into the different hotels and restaurants along the cliff. One evening we walked along for dinner and it was just as pretty, with the building lights and pools lighting up the cliff side. Oia, being a highly popular tourist destination, gets really busy but it is a must. It is similar to the other towns with lots of restaurants, bars and gift shops. It is the best place to see sunsets, however if the sunset can be seen from your hotel I would recommend staying there, as it can often be so busy during that hour, you can find it hard to see from anywhere else in town.  If your friends or family are like mine and love coffee, we found a great little spot while walking through the streets called Passaggio. They do amazing coffee, smoothies and lemon meringue pie, with great views on their rooftop deck.
After Santorini, it was time to pack up the bags and get a boat over to Paros. The ferries are regular and you have the option of a high speed or a longer one. We stayed in a lovely hotel in the area of Golden Beach. We rented a car, which gave us flexibility in getting around the island. Dinner was not included in the hotel package so for dinner we would head out to a near village. The two villages we visited most were Logaras and Naousa. Lagoras was quieter and had a range of restaurants and a bar along the water with a nice atmosphere to go with it. Naousa, on the other hand, was one of the main villages of Paros. The streets are every Instagrammers dream, and there were enough restaurants for you to eat out for probably 3 weeks.  We visited both during the day and at evening and both times had such a buzz and holiday-like feeling. Sante was a lovely coffee place by day and cocktail bar by night in a small courtyard within the lanes, where you can soak up the vibe and watch the tourists go by. If you're looking for an evening coffee though, it's not the place to go as it is only a cocktail bar by night.
Before going to Greece, we had in mind to do a boat tour and we did a bit of research on the best day trips around. We came across Rofos Boat Tours, which depart from Aliki. They have two trips a day which last around 2 hours and 30 minutes, costing £30 for adults and £20 for kids. This was quite possibly the highlight of the trip and worth every penny. The trip consisted of three stops, one of which included a blue lagoon with crystal clear waters. They provide plates of fresh fruit and salads for lunch. They had a wonderful crew and it was a great day out, would highly recommend.
We had an amazing trip and are already in the process of booking one for next year, but this time we want to go to different islands. If you're considering going, just go ahead and book, you won't regret it.
Lucy Ritchie recently graduated with a BA Hons in Management with Marketing. Having been born with Treacher Collins means her facial bone structure was not fully developed at birth, making her look different. For the past few years, she has been actively volunteering with Changing Faces UK to raise awareness about facial disfigurement and promoting the message of equality and the campaign #proudtobeme.