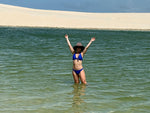 For our honeymoon, we went to one of the most remote places on earth. Just to get there, it took five flights. We went to the northeast of Brazil, Jericoacoara and Fernando de Noronha, an island 217 miles away from the coast.
This was not my first time in the "pais tropical." The first time I went there was back in 2018, when I went for Rio's Carnaval. Before attending carnaval, I could sense there were some stark differences between my hometown, San José, Costa Rica and Brazil. For once, I felt like women in Brazil were very comfortable with their bodies. Maybe it was the lack of clothes I knew carnaval was notorious for or the dancers in Anitta's videos. Once I visited, I realized I was not wrong but there was more than met the eye. 
My first day at Ipanema beach, everyone was wearing a thong. It didn't matter whether you were a size 00 or 44, and that to me was liberating. All of a sudden, cellulite was everywhere. Not something to be ashamed of or concealed, but a REGULAR condition of the human body. The norm. 
How many of us feel that our backside is something to be ashamed of? According to our last design survey, more than 45% of us.
Contrary to popular belief that in Latin American countries big butts are celebrated, in San José, Costa Rica the beauty standard when I was growing up was being skinny… everywhere. I never fit that mold because I have, like Missy Elliot once said "thick legs" and a butt. And when you are 5 feet tall, it's noticeable. Growing up, I was always very self-aware of hiding what I had inherited from my mother's mom. No tight pants, no short skirts. Aside from worrying about my cellulite, I also had to conceal the million and one mosquito bite scars that permanently live in my legs. 
In Brazil, I saw the ladies strutting what God gave them. In some cases it may have been what the surgeon gave them, but it didn't matter. What mattered was the level of sensuality that permeated their gait. I decided to ask a Brazilian woman I met at carnaval what she thought about my hypothesis, did Brazilian women feel more comfortable with their bodies? She answered: "I dress like this," pointing to her skimpy gold bikini, "for me." "I want to feel sexy, not be sexy." I don't know about you, but I dress mostly for other women and working at an all-women co-working space, makes me think that I am not alone in this. Maybe I should start dressing up for myself...
Although Brazil is known for being the plastic surgery capital of the world, I found their approach to the body and appearance refreshing. When we stayed in an Instagram-friendly, but not guest friendly hotel, in Jericoacoara I felt like a minority. Most people there looked like TV stars. The second you left the hotel however, the same that I experienced at Ipanema beach happened again. People legitimately enjoying their holiday, fearlessly wearing the most skin revealing bathing suits. Not to say that in my hometown or in the east coast of the US, the beach is not enjoyed the same, but there is a level of freedom and relaxation that can only be attained with outside-of-the-comfort-zone exposure. Take it from me, who proudly wore a thong bottom and nothing else. 
To read more on body freedom, check this out.