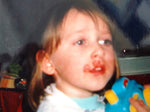 By: Clare Amy
One of my most vivid memories as a child was at my local swimming pool. A girl, younger than me, staring at me, absolutely fixated and confused. After 20 years, the horror I felt is still fresh.  I was born with a rare genetic skin disorder called Epidermolysis Bullosa Simplex (EB). It is caused by faults in the proteins which keep skin together, causing the skin to separate, blister and scar. Children with the disorder go by the name of 'Butterfly Children,' comparing the fragility of the skin to their wings. More severe types of the disorder can cause internal blistering.
Irish Dancing at 6 years old was where it all began for me. My mum still recalls how other mums would look worried as I took off my dance shoes to reveal bloodied white bandages and socks where the skin had come off. All I remember is that I hated people looking at my feet, I was horrified inside, but I felt so pretty when I got to dance and thought that's what other people would see too.When I turned 18, I was accepted into The Urdang Academy, one of London's most prestigious dance and musical theatre schools.
These were the most incredible yet painful 3 years of my life. I would take ice packs into ballet class to numb my feet in-between exercises. Leotards would chafe my skin off, tap shoes gave me immense pressure and pain, and dancing barefoot for contemporary class was painful and revealing. There were countless nights I would have to call my mum to assist me in the two minute walk home from the station because I was so overcome by pain I would cry. I would then get home, bathe, go to bed and wake up at 05:45 the next morning to do it all over again. How can something that causes so much pain also bring so much joy and emotional relief?
Anyone with a disfigurement or disorder knows how difficult it can be to even walk down the street without people staring or asking questions. And yet, I have chosen an industry that puts me under the spotlight and that judges my talent and my appearance almost equally. As I got older, I understood that ballet made me feel beautiful and strong, the complete opposite to how my skin made me feel. When I perform, my heart lights up and I often get very overwhelmed with emotion. I knew I wanted to live a life where I pushed myself to achieve what I love and to see all the beauty in the world without letting the disorder or others' perceptions stop me. I wanted to make my family proud as I owe much of my career to my mum and dad for bandaging me up and pushing me right back out onto the stage.
As I've grown, my skin has hardened to protect my hand and feet from blistering. I have also learned how to deal with the blisters and how to prevent them. Although the thoughts of growing up with unwanted attention lingers, I have learnt to retrain my brain after having to deal with pain and pressure in the pursuit of my passion. I find intense pride in what I have achieved and the 'tough skinned' woman I have become.
Clare Adams is a professional singer and dancer. She has starred in plays in the Westend, as well as in shows for Disney, the BBC and ITV. She is currently on her fourth contract traveling the world onboard Holland America Line Cruises, where she stars in three shows this season. She works closely with Charity Debra, an organization dedicated to the curing of Epidermolysis Bullosa and she firmly believes that coming together to share our experiences can only make us stronger.