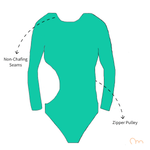 Accessible Swimwear: What is it?
To some our swimwear looks similar to other swimwear out there. Here is what we mean by accessible swimwear and what makes our swimwear just that. 
Different from other suits, our swimsuits have been built with direct feedback from people that have different types of disabilities. Whether it is a limb difference or a medical device, our suits are designed to take these differences into account. But a common misconception is that if we create swimsuits with this input then our styles are only meant to be worn by people with disabilities. And that assumption is incorrect. 
Universal Design is defined as the design of products to make them accessible to all people, regardless of age, disability or other factors. So when we design universally, we are including everyone. Thus, our brand is not only for people with disabilities but for everyone. I think it is important to point out, however, that our brand is not for those who are ableist. If you believe that disability is something that must be overcome, then our brand is not for you. 
Accessible swimwear is swimwear that has been created with the intention to be accessible to all, meaning it is easy to put on and put off. You can imagine how challenging it is to go to the bathroom if you are wearing a wetsuit, so we have created The Anna swimsuit with an extra long pulley at the back so that it is easier to take off and put on. The Anna is also inspired by Anna Nelson's story with Acne Inversa. This skin condition caused her to develop wounds in her armpits that were so painful that they interfered with her work. This long sleeve one piece swimsuit works for Anna because it comes with raglan sleeves, which guarantee no chafing in the armpits.
The Lydia Bottom comes with a detachable belt that can be tied in different sides of the stomach, depending on what works best with your medical equipment. In the case of Lydia Andrews, she ties the belt to her left side to best accommodate her ileostomy. The Lydia Bottom can be paired with The Lydia Top, which has no-chafe sleeves and a long zipper pulley at the back for easy dressing. Similarly, The Mio one-piece has extra long straps that make it easier to put on for those that have limb differences and/or limited mobility. 
And these are just four of our nine styles. Our hope is that when our customers put on our suits and read the health story printed on the canvas bag that comes with each suit, that they feel encouraged to appreciate their body as is, empowered by the courageous and resilient stories of our collaborators. In turn, our collaborators share their story as a way to feel less self-conscious and to raise awareness and empathy about their experience. Our customer is preoccupied with how inaccessible society is, and wants to continue to learn more about the disability experience. Our customer understands that when this world becomes a more accessible place, everyone wins. 
Illustrations by: Summer Atwood